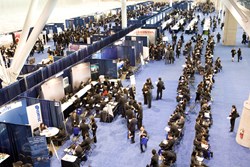 Asian Bilingual Career Forum helped us find and hire highly competitive candidate to start our stores in China. - 2012 ABCF participant
New York, NY (PRWEB) September 12, 2013
Human Resource issues have always been the top concerns for many US businesses in Asia. The US China Business Council's 2012 survey shows that talent recruitment and retention remains the number one business concern since 2006 (except in 2009, ranked as 3rd). The survey summarizes: "the competition and cost of talent are outrageous" and it is becoming very hard to attract qualified talent in the market.
Here are 3 HR management tips to beat this competitive HR environment and successfully grow your businesses in Asia:
Tip 1 - Talent Recruitment: Recruit multilingual candidates with excellent English communication skills.
Recruiting candidates with excellent English business communication skills is very important to smoothly and immediately operate your businesses in Asia. DISCO's survey in June 2013, with over 240 companies, shows more than 40% of the companies are in need of English, especially in the areas of presentation, email and letter writing, customer service, and telecommunication.

Recruiting bilingual Asian natives with overseas educational background will immediately help businesses utilize their excellent skills in English communication, cross-cultural skills, as well as the networks and resources available in the hosting countries.
Tip 2 - Talent Retention: Seek candidates who are about more than salaries and benefits.
As the USCBC's survey's respondent shows: "turnover rates 10-20% despite the higher salary." Level of ambition and the drive to pursue individual passion in the industry are, therefore, extremely vital traits when hiring the truly right candidates for your company.
Seek candidates who are highly ambitious in growing themselves in the industry, so they are not just working for their financial pursuit. Providing intensive training and a challenging environment for the employees or potential employees after you hire them would address this issue.
Tip 3 - Utilize HR Resources: Have the right network to attract highly skilled and qualified candidates.
Many companies are tying up with Chinese universities to meet the demand for technically skilled and qualified employees in China. The survey by the USCBC shows: "technically skilled and managerial talent is difficult to recruit due to high competition."
Utilize the resources provided by a third party if necessary, as they already have the network with all the universities, and candidates with technical background in the hosting countries and other parts of the world.
Next Step:
At DISCO's Asian Bilingual Career Forum (ABCF), you can meet hundreds of MBA, Masters, and PhD candidates from top-universities in the US who are highly ambitious and culturally aware, with personal connections and deep knowledge and roots in Asia. With over 25 years of international recruitment fairs for businesses in Asia, DISCO has strong relationships with more than 500 US educational institutions. DISCO's ABCF will be able to provide all the connections and resources you need to win the right talent and successfully grow your businesses in Asia.
[About Asian Bilingual Career Forum]
ABCF will be held in Boston from November 8th through 10th. If you would like to register as a participating company, please follow here. For more information, please visit here.
[About DISCO]
DISCO International, Inc. was established in 1989 as a Human Resources firm specializing in Japanese-English bilingual recruitment through job fairs called "Career Forums," such as the Boston Career Forum. Since its inception, the company has connected in excess of 200,000 candidates with more than 5,000 companies via its world-renowned job fairs in operation since 1987, which is now held annually in London, Tokyo, Los Angeles, New York, Sydney and Boston.