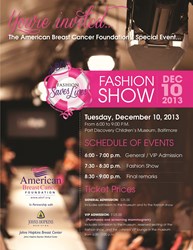 Bel Air, Md. (PRWEB) December 02, 2013
Baltimore Ravens kicker, Justin Tucker is taking his talents from the football field to the runway as a model in the American Breast Cancer Foundation's (ABCF) "Fashion Saves Lives" fashion event on December 10th at Port Discovery Children's Museum. The event will raise funds in support of the Foundation's mission to provide direct financial assistance for breast cancer early detection screenings and diagnostic tests to those who could not otherwise afford them, regardless of age or gender.
Known for his consistency and entertaining celebrations on the field, the second-year place kicker out of The University of Texas joins many breast cancer survivors as a model in ABCF's fashion event. Other guest models include Shay Sharpe, breast cancer survivor and founder of Shay Sharpe's Pink Wishes Foundation; Dr. Mehran Habibi, medical director of the Johns Hopkins Breast Center on the Johns Hopkins Bayview campus; Lynne Brick, international fitness industry expert and long-time ABCF supporter; and members of the Baltimore-area media.
"I am honored to be a model in the ABCF fashion show," said Brick Bodies Fitness co-founder, Lynne Brick. "ABCF is a great organization that helps so many people in the community. They provided transportation and free mammogram screenings for one of our staff members and for that we are all so grateful."
The Johns Hopkins Breast Center on the Johns Hopkins Bayview Medical campus has joined forces with ABCF to host the first of what is hoped to be many fashion shows. Other key fundraiser sponsors include ALKO Distributers, Inc.; Jos. A. Bank, provider of the evening's menswear; and Baltimore-based clothier, Jones and Jones of Cross Keys, who is providing fashions for the show's female models and coordinating event details with ABCF. Keith Scott, CEO of the Baltimore County Chamber of Commerce, will be the show's emcee.
"We are honored to collaborate with the American Breast Cancer Foundation on making the 'Fashion Saves Lives' event possible," said Dr. Habibi, medical director of the Johns Hopkins Breast Center. "ABCF has been instrumental in providing mammograms and diagnostic testing to many individuals in our Baltimore community and through their efforts many lives have been saved from breast cancer."
The event is set for Tuesday, December 10th from 6:00 to 9:00 p.m. All of the funds raised from ticket sales will directly support ABCF's program, which provides life-saving mammograms and breast ultrasounds to the underserved and uninsured. A $25 general admission ticket includes a tour of Port Discovery Children's Museum with a "Taste of Baltimore" food tasting from several Baltimore restaurants and access to the fashion show. VIP ticket holders will also enjoy the benefits of general admission tickets, in addition to having access to the catered VIP Lounge to mingle with the models and reserved seating at the fashion show. The purchase of a VIP ticket will fully-fund a screening mammogram for an ABCF client. Various sponsorship packages are still available for interested groups and businesses.
To purchase tickets for ABCF's Fashion Saves Lives event call 410-825-9388 or visit https://fashionsaveslives.eventbrite.com. To learn more about sponsorship opportunities for the event, contact the fashion show coordinator, Lisa Wiederlight, at 410-825-9388 or by the email provided above.
For additional information about the American Breast Cancer Foundation or the "Fashion Saves Lives" event, contact Josie Hankey of the Fallston Group at 410-420-2001 or by the email provided above.
About ABCF
The American Breast Cancer Foundation is a national, 501 (c) 3 non-profit organization headquartered in Baltimore, Md. ABCF's mission is to reduce the financial barriers to potentially life-saving breast cancer screenings and diagnostic tests by providing financial assistance for these procedures to the uninsured and underserved, regardless of race or gender. Since 2007, ABCF has granted more than $6.5 million to its clients, and served over 22,000 people through its call center. ABCF is the recipient of the Mammography Funding Award from the Primary Care Coalition (PCC) of Montgomery County, Md. In conjunction with community partners, ABCF helped PCC launch its Breast Health Initiative by providing a $40,000 grant to help more than 700 women obtain breast cancer screenings they could not otherwise afford.