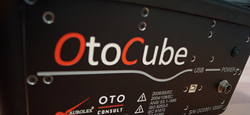 The Herman Wijffels Innovation Award supports innovations that contribute to a sustainable future.
BERGAMBACHT, Netherlands (PRWEB) November 04, 2013
Dutch sound design firm ABC International Trade B.V. has been named one of five finalists for the prestigious 2013 Herman Wijffels Innovation Award for Healthcare for the company's OtoCube portable audio booth for testing, programming and fitting cochlear implant recipients.
There were a record 743 entries for this year's award, which was whittled to only 13 finalists in two categories: Innovation and Healthcare (care and welfare.) In addition to a juried award, there is a public award based on votes accumulating on the public portion of the Award website, where finalists have recorded a short video describing the impact their invention has on sustainability and the public welfare. 2013 marks the first year for the competition to include the healthcare category.
Noise control engineers from ABC International Trade B.V., in concert with engineers at the University of Antwerp, Belgium, and Akoestische Bouw Constructies B.V., designed the OtoCube to be the first and only fully equipped desktop audio booth for testing and calibrating the cochlear implants of deaf individuals. A cochlear implant (CI) is a surgically implanted electronic device that provides a sense of sound to people who are profoundly deaf or severely hard of hearing.
The OtoCube simply connects to a computer USB port, and it is ready to perform all audiological tests available through its large-scale, non-portable predecessors, and meets the standards for blocking ambient noise that make the portable unit as effective as the large booths. Engineers at the University of Antwerp and ABC B.V. accomplished this by applying a 3mm layer of Acoustiblok noise blocking material within the unit, creating a sound insulation layer without adding weight or taking up more than a small amount of space.
The Herman Wijffels Innovation Award supports innovations that contribute to a sustainable future. Finalists are eligible for one of four monetary prizes:

First prize of € 50,000 ($68,840 USD)
Second prize of € 30,000 ($41,304 USD)
Third prize of € 20,000 ($27,536 USD)
Prize for the healthcare sector of € 50,000 ($68,840 USD)
The OtoCube weighs less than 15 kg (33 pounds) according to Ad Vreeswijk, ABC International Trading B.V.'s General Manager Europe. The sound insulation qualities of the unit helps the OtoCube set a new standard in precision, usability, and sound insulation for ambient noise.
Programming a cochlear implant is a technical intervention, performed only by a trained audiologist. Achieving the best possible programming of the bio-electrical device is the audiologist's primary goal when testing and calibrating each individual's cochlear implant. The OtoCube provides a portable device that can reach many patients when access to a testing booth is impractical or impossible.
In 2012, there were approximately 240,000 cochlear implant recipients worldwide, including 41,500 adults and more than 30,000 children in the U.S. alone. Only one in approximately 130 people around the world who could benefit from a cochlear implant has received one. However, since 2004, U.S. health policies have been put in place to increase CI recipients by 10 percent, and the OtoCube can help audiologists reach them. For more information, visit the OtoCube.com website.
About ABC International Trade B.V.:
ABC International Trade B.V is a sound designer and manufacturer of sound-insulating and soundproofing products for industrial and civil construction. ABC manufactures products in Asia, and is a dealer-supplier in Scandinavia and throughout Europe.
Established in 1996, ABC International Trading B.V. offers high quality soundproofing and sound absorbing products throughout Europe and Asia. For more information, visit the ABC International Trade B.V. website.
About the Herman Wijffels Innovation Award:
Instituted in 1999, The Herman Wijffels Fund marked the retirement of Herman Wijffels as Chairman of the Executive Board of Rabobank Nederland. The Herman Wijffels Innovation Award realizes the fund's objective, which is to support initiatives that promote co-operative business models and sustainability.
Herman Wijffels currently holds the position of Professor of Sustainability and Social Change at Utrecht University, the Netherlands.
For more information, visit the Rabobank website.
###