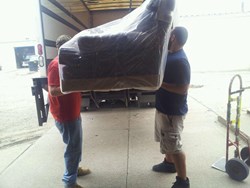 'They have been one of our best and most reliable furniture suppliers.'-- Howard Krasne, Abe Krasne Home Furnishings
Fremont, NE (PRWEB) August 23, 2013
Abe Krasne Home Furnishings in Downtown Fremont (Krasne's) this week announced the purchase of two truckloads of the now-out-of-business, Charles Schneider Furniture. 
Charles Schneider has manufactured fine furniture in Council Bluffs, IA for over 67 years. They have an established reputation of excellence in providing top-quality, upholstered furniture. 
"I am saddened that they decided to close their doors after all these years." said Howard Krasne of Abe Krasne Home Furnishings. "They have been one of our best and most reliable furniture suppliers. We could always count on them to deliver a well-tailored, top-quality product. Also, with their factory being as close to us as it was, our shipping times were very quick. I'll miss the relationship that our companies established with one another for the past 45 years."  
Shoppers will have one last chance to buy their remaining Charles Schneider inventory at up to 80% off retail prices. The furniture is available now at Krasne's on a first come, first served basis. 
Abe Krasne Home Furnishings is located at 450 North Main St, Fremont, NE 68025. (402)721-2777 or online at: http://krasnefurniture.com