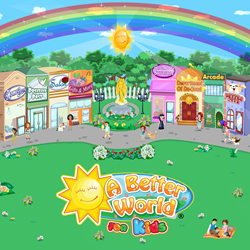 Wayne, PA (PRWEB) September 30, 2014
A Better World for Kids, a kid-friendly online version of the popular game on Facebook, A Better World, has officially begun its crowdfunding campaign on Kickstarter. The game is designed to encourage kids to do good, help others and have a positive attitude both in a virtual setting and in the real world, all while having fun. The funding goal for the campaign is set to $500,000, and the funds will be used to develop and mass-distribute A Better World for Kids.
A Better World for Kids is a virtual world game "Where All Good Deeds Are Rewarded." It harnesses the immersive, imaginative and interactive aspects of gameplay to help kids learn important values and good happiness habits while having great fun. Kids will create avatars in the game that live in the virtual BetterWorldians Neighborhood, interact with other kids and get jobs to help make the world a better place. The game provides a positive alternative to violent and time-wasting games and will be hosted on its own safe and secure website.
Jobs are based on gameplay kids already know and love such as cooking, driving, building, puzzles and more. And A Better World for Kids will include actions like learning to cook healthy, sorting and recycling using match 3, solving word games with positive themes, as well as other acts of kindness and altruism. A Better World for Kids is also all about positive attitude. The game will encourage children to think positively and teach them ways to express gratitude and other positive feelings. A Better World for Kids does all of this in a fun and interactive game format that children love to play.
Kids will earn Do-Good Gold for Positive Actions and Positive Attitude and can use it to play at being adults. They can decorate their own home and visit friends, they can dress up in fun clothes and costumes, and even have their own pets to care for and play with. In A Better World for Kids, the more good deeds they do, the faster and further they'll progress. They'll earn more points, unlock more features of the game, and even their house gets bigger.
A key aspect of A Better World for Kids is breaking the boundary between the real world and virtual world – children are asked to do good and think positively in the game as well as in the real world. This means that children are not just playing a game, they are going out in the world and doing good. Parents can also put in real world household chores for children to do which earns them Do-Good Gold in the game.
Staying true to the message of good deeds, A Better World for Kids has promised to pledge 10 percent of its post-campaign net profits to charity. The company will support a new charity every two months and work with these charities to make the real world a better place for kids.
The A Better World for Kids Kickstarter campaign is now live. There are many different funding levels with fun rewards for every backer. Early Bird Specials for purchasing subscriptions to A Better World for Kids are available for a limited time. To learn more about the campaign and back it today, visit http://bit.ly/ABW4KidsPR today.
ABOUT A BETTER WORLD
A Better World is a digital entertainment company whose mission is to make "Uplifting Games and Apps to Brighten the World." They create awesome stuff designed to make a difference through optimism, altruism and charity. Their goal: Do-Good, Have Fun and Change The World. The company's flagship product is the A Better World game on Facebook, "Where All Good Deeds Are Rewarded and Real World Causes Are Supported!" To date, over 2.5 million people have done over 22 million good deeds in A Better World. To learn more, visit http://www.ABetterWorld.com.