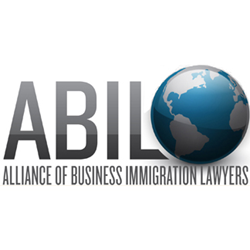 I enthusiastically accept the nomination to become the group's fourth president and am proud to lead this distinguished group of lawyers and "thought leaders" within our industry.
Charlotte, NC (PRWEB) November 10, 2016
Steven H. ("Steve") Garfinkel, Founder & Managing Partner of Garfinkel Immigration Law Firm in Charlotte, NC, was elected president of the Alliance of Business Immigration Lawyers at that group's meeting on Friday, October 21, 2016 in Memphis, TN. The Alliance, better known as "ABIL," is an invitation-only association of 38 global law firms (20 U.S. firms and 18 international firms) which employ over 1000 immigration law professionals. The group's 20 U.S. lawyers are each managing partners of their respective immigration firms/practice groups and are recognized experts in the corporate immigration field. All are listed in two or more of the world's established ranking services for immigration lawyers (Chambers Global and USA, Best Lawyers in America, International Who's Who of Business Immigration Lawyers, Martindale Hubbell AV ratings, and more). Further, a number of ABIL members (including Mr. Garfinkel) have served on the Board of Governors of the American Immigration Lawyers Association ("AILA"), the 11,000+-member bar association of U.S. immigration lawyers. Several ABIL members are also past national AILA presidents, members of federal government agency liaison committees, immigration law professors at prominent law schools and authors of well-known immigration treatises and textbooks. Information about ABIL & ABIL members may be found at http://www.abil.com.
Mr. Garfinkel, who has practiced corporate immigration law in Charlotte, NC for over 30 years, has been an ABIL member since 2007. He enthusiastically accepted the nomination to become the group's fourth president. He agreed to lead the group "with gusto" and stated that ABIL has done & continues to do an outstanding job of being "industry thought leaders." He's proud of the group's efforts to advocate for reasonable changes to the outdated U.S. immigration laws and regulations and continues to be amazed at the group's ability to elevate the practice of immigration law through thoughtful discussion and implementation of best practices among ABIL member firms.
Mr. Garfinkel looks forward to working with the group's Executive Committee to expand upon the group's mission to apply high ethical standards to promote best practices in client service and law firm management and to provide superior quality and personalized legal services to resolve companies' and individuals' immigration issues.