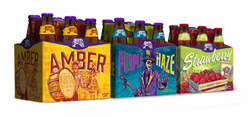 We are proud of where we come from and wanted that to be evident through every aspect of Abita.
New Orleans, Louisiana (PRWEB) February 15, 2016
Abita Brewing Company (Abita) unveiled new designs across its product line in coordination with the celebration of the brewery's 30th anniversary. Consumers will begin to see the new looks of Abita's flagship brews, seasonal brews and harvest series on shelves this month. Abita's company logo and other company design elements will remain the same.
Fans will also notice their favorite bottled Abita brews are back in basket carriers. When Abita first offered bottles they debuted in baskets, making it fitting to return to them after all these years. The brewery made the change after listening to its fans and with respect for their desire for baskets over wraps. The new baskets allow for ease of use and give the consumer the ability to see more of the product through the packaging.
But with all of the exciting changes, Abita wants its fans to know, "The bottles may look refreshingly different on the outside, but your favorite brews inside will taste exactly the same."
Abita has become a brand synonymous with the state of Louisiana and the city of New Orleans. As one of the largest exporters of Louisiana culture nationwide, Abita wanted to be sure its new packaging reflected that.
"Abita Beer is brewed for the way we love to live," David Blossman, President and CEO of Abita said. "We are proud of where we come from and wanted that to be evident through every aspect of Abita. There was no better time to embrace who we are than as we celebrate 30 years of continued craft brewing success."
Abita's new look is inspired by the art, culture, history and colors of New Orleans. The personality of the city is showcased through the brand's eccentric new characters and quintessential New Orleans scenes depicted on the packaging. Examples include a Voodoo doctor to personify the mystery and magic of Purple Haze, as well as a brass band leading a parade, or 'second line' as they call it in New Orleans, for Abita Amber's new look.
"There's a parade for every occasion in New Orleans. Abita Amber leads the parade of our brews so it was a natural choice to have it lead off our new product designs with a second line," Blossman added.
As with any retail product, packaging is an important component that says a lot about a company.
"A beer's packaging gives you a snapshot of what's inside, the culture of the brewery and a preview of the experience you'll enjoy once you make the purchase," said Blossman.
Since first opening in 1986, Abita has evolved immensely while still holding true to its heritage and commitment to Louisiana, as evidenced by this redesign.
Known as the original craft brewer in the Southeast, Abita has experienced impressive growth over the past 30 years. Last year, the brewery completed a $30 million state-of-the-art expansion to increase its brewing capacity to 400,000 barrels.
For more information, visit https://abita.com/brews/brewmasters_blog/new-packaging.-same-great-beer.
###
ABOUT ABITA BREWING COMPANY
Abita Brewing Company currently produces seven year-round flagship beers, multiple seasonal and harvest brews, a select series and a Bourbon Street series, in addition to a craft soda series and hard soda series. The company's products are sold in 41 states, the District of Columbia, and in a limited number of foreign countries. Abita Brewing was ranked the 21st largest craft brewer in the country by the Brewers Association in 2014.