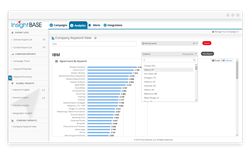 Users wish to have a location-by-location understanding of which topics are surging, in near real time, to optimize their content.
WASHINGTON, DC (PRWEB) November 15, 2016
Trailblazing Account-Based Marketing firm, True Influence, has announced details of another eagerly anticipated analytics report for its flagship platform, InsightBASE. This newest report, "Company Keyword View," gives subscribers unprecedented data-based intelligence to enhance their targeted B2B marketing campaigns.
The new Company Keyword View enables users to discover surging topics for specific companies including all locations associated with that company, providing time based intent signaling data for B2B marketers. The downloadable results can be filtered by geographic location, showing the level of keyword interest for precise targeting of marketing campaigns as well as intelligence insight.
Brian Giese, CEO of True Influence, announced the new InsightBASE Insight Intelligence in the following statement: "True Influence is very proud to share this value-added data for InsightBASE. Following our last product update, we created this new intelligence in response to customer feedback. We are improving InsightBASE on a continual basis and expanding the platform by implementing valuable additions like this one."
The statement continued, "One of the most popular downloads continues to be our Contact Export capability. This is extremely beneficial to users who want the names, email addresses, phone numbers and other information of the people in accounts they are targeting.
On the topic of the value-added benefit of this new product addition, Mr. Giese added, "Users wish to have a location-by-location understanding of which topics are surging, in near real time, to optimize their content. This new intelligence lets them know what products and services a target account is researching, so that they can adjust their marketing efforts accordingly before committing to the effort of creating a campaign."
About InsightBASE
InsightBASE is a Data-as-a-Service (DaaS) platform which monitors and curates online behavioral signals to facilitate marketers with the identification and engagement of prospects. A crucial feature that sets InsightBASE apart, is that it operates ahead of the curve, so that marketers can receive email alerts of prospect interest in near real time and perform direct marketing outreach.
Interested subscribers can visit the website for a product demonstration and to learn more.
About True Influence
True Influence is the market leader in B2B targeting and innovative fact-based account marketing. Its clients include IBM, TimeWarner, Google and Oracle, among others.
To learn more about True Influence, InsightBASE, or to request a product demonstration, visit: http://www.trueinfluence.com