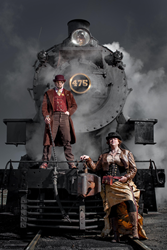 Strasburg, PA (PRWEB) March 27, 2014
Strasburg Rail Road announces Abney Park, dubbed as one of Steampunk's most influential bands, as the musical headliner at Steampunk unLimited™ September 28.
Originally from Seattle, WA and billed as scoundrelous musicians from an era that never was, Abney Park, incorporates clockwork guitars, Middle Eastern percussion, violin and Tesla-powered keyboards creating a musical experience describe as "post-apocalyptic Steampunk musical mayhem."
The band will launch its first performance in Lancaster County on Sunday, September 28 at 3 p.m. Tickets are on sale now.
The second annual Steampunk unLimited™ weekend at Strasburg Rail Road is a juxtaposition of art and invention, creativity and technology that pays homage to the Victorian Era and Industrial Revolution. The weekend-long celebration will feature musical performances, artisans, entertainers and Victorian-inspired food and drink tastings.
In addition to Abney Park, Steampunk unLimited™ will feature musicians throughout the day on Saturday, September 27 and include Eli August & The Abandoned Buildings, The Clockwork Dolls, Frenchy and the Punk, and This Way to the Egress.
Steampunk unLimited™ Ticket Packages
Steampunk unLimited Weekend Pass with Abney Park – $68 - $75
Includes full access to Steampunk artisans, vendors, entertainers and unlimited coach rides aboard Strasburg Rail Road's vintage steam trains Friday through Sunday. Special features include admission to Friday evening sunset train and Victorian Ball, Saturday behind-the-scenes Shop Tour and musical performances and Sunday's concert with Abney Park. Reserved seating tickets are available and limited.
Additional ticket packages are available and range from $60 to $18. (Tickets do not include Abney Park concert.) Steampunk unLimited™ festivities will run Friday September 26 at 6 p. m., Saturday from 11 a.m. – 6 p.m. and Sunday from 11 a.m. – 4 p.m.
For more information and to purchase Steampunk unLimited™ tickets, visit http://strasburgrailroad.com/steampunk or call 717.687.7522.
About Strasburg Rail Road
Strasburg Rail Road is one of Pennsylvania's leading family attractions and is home to museum-quality, working, turn-of-the-century steam locomotives, freight cars, dining cars, private cars and one of the largest fleets of historic wooden passenger cars in the world. Founded in 1832, Strasburg Rail Road also holds the unique distinction as being America's oldest short line railroad.
For more information on the Strasburg Rail Road or to purchase tickets, please visit http://www.strasburgrailroad.com/ or call 717.687.7522.