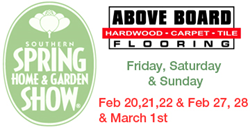 We'll be showing some of the hottest trends in flooring and custom flooring options.
Charlotte, NC (PRWEB) February 14, 2015
Andrew Linford, owner of hardwood flooring company Above Board Flooring in Charlotte, North Carolina, is pleased to announce that his company will attend the upcoming Southern Spring Home and Garden Show. During the show, which will take place from February 20-22 and February 27-March 1 in Charlotte, representatives from Above Board Flooring will feature the high quality flooring products by Cali Bamboo, as well as fantastic lines of carpet and tile.
"We'll be showing some of the hottest trends in flooring and custom flooring options," Andrew said, adding that the Charlotte flooring company will also be offering the best money saving tips when it comes to flooring projects.
"For example, as a certified flooring expert, we can show you ways to save your floors and even beautify hardwood flooring through our dust free flooring restoration and repairs."
As Andrew noted, around 350 companies are expected to be exhibitors during the upcoming show. For homeowners who have questions about various projects and remodels, top experts from various industries will be on hand to talk with them about products and current trends.
As a bonus, people who attend the home and garden show and stop by at the Above Board Flooring booth will get access to extra special savings. As Andrew noted, he is looking forward to offering people the best trade show deals and savings possible.
For people who would like to attend the Home and Garden Show, which will be held at The Park Expo and Conference Center, Above Board Flooring's Facebook page features helpful information about the event. For example, adult tickets cost $11 at the door, and those under 15 get in for free with a paying adult. The Facebook post also includes information about group ticket rates, advance tickets and the hours of the event.
Anybody who would like to learn more about Above Board Flooring is welcome to visit the company's user friendly website or their Facebook page; there, they can read about the upcoming home and garden show as well as the many top quality products and services the company offers its customers.
About Above Board Flooring:
Above Board Flooring is Charlotte, North Carolina's leading flooring expert on hardwood, laminate, tile, carpet and vinyl floor coverings. Owner Andrew Linford has over 25 years experience in the flooring industry. Andrew is a National Hardwood Certified Inspector through the National Wood Flooring Association. For more information, please visit http://aboveboardflooring.com/blog/board-flooring-attend-southern-spring-home-garden-show/