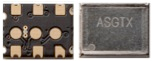 Rancho Santa Margarita, CA (PRWEB) July 31, 2014
A globally preferred, leading supplier of frequency control and magnetic components, Abracon Corporation has introduced its ASGTX series of factory configurable, high performance, fixed and voltage controlled crystal oscillators.
The ASGTX configurable devices are now in stock online at both Abracon.com and Digikey.com for immediate delivery. Customers requiring any frequency between 10.00MHz and 1.50GHz with over temperature accuracy as low as ±1.00 ppm (-30ºC to +70ºC) and ±2.00 ppm (-40ºC to +85ºC) can purchase these devices and expect a one to five-day delivery time. Furthermore, pre-configured frequencies are in stock online at Mouser.com.
Abracon's ASGTX temperature compensated crystal oscillators are designed to accommodate a broad spectrum of precision TCXO requirements without NRE and extended lead-times. This oscillator series, designed and manufactured by Abracon Corporation, is available to order from one piece to high volume production quantities.
For example, if a reference oscillator requirement calls for 49.7521MHz frequency, a ±1.00 ppm TCXO/VCTCXO with LVCMOS output, the ASGTX can be configured and shipped within one to five days, and, in most cases, the same day, if the order is received before noon CST. Customers with low-to-mid annual volume requirements will prefer this quick turnaround time, as they typically find it difficult to procure custom frequency TCXOs/VCTXCOs without costly NRE charges and/or long lead-times (> 12 weeks).
The ASGTX series is available with either LVDS or LVPECL output from 10.00MHz to 1.50GHz at any desired frequency, such as 149.875MHz, 1.00GHz or 1.50GHz, with as tight as ±1.00 ppm stability over temperature. No other solution currently in the marketplace offers such capability, especially in a small form-factor of 9.00x7.00x2.24mm.
This series is suitable for a wide variety of precision timing applications, where TCXOs/VCTXOs are typically employed. In addition, for high frequency LO requirements, customers traditionally have relied on SAW based oscillators, which are only available at a few fixed frequencies, such as 915MHz or 1.0GHz. They are typically in 9.0x14.0mm or larger packages, and can vary as much as ±100 ppm over temperature.
While phase noise performance in the ASGTX series may be slightly less favorable, when compared to SAW based oscillators, it offers the following key advantages:

A ±1.00 ppm stability over -30ºC to +70ºC and ±2.00 ppm stability over -40ºC to +85ºC
Any carrier frequency between 10MHz and 1.50GHz
A LVCMOS output of 10MHz to 250MHz or a LVDS / LVPECL output of 10MHz to 1.50GHz
A small form-factor of 9.00x7.00x2.24mm
No NRE or lead-time
The ASGTX series is now available through Abracon's Global Distribution partners, including Digikey.com and Mouser.com.
Abracon Link

Distribution Links

For technical assistance with this product, please contact Abracon Corporation at tech-support(at)abracon(dot)com.
Abracon Corporation was established in 1992 with the vision of becoming a top tier global manufacturer of Frequency Control, Signal Conditioning, Clock Distribution and Magnetic Components with local design and technical support. Abracon provides its customers with high quality products, competitive pricing, timely delivery, reliable engineering and technical support, plus production flexibility worldwide.