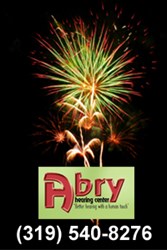 Cedar Rapids, IA (PRWEB) July 02, 2013
An exploding firework produces a noise in the range of 150 to 175 decibels. By way of comparison, a jet taking off 25 meters away also produces a noise in the range of 150 decibels. While no one would think of standing this close to a jet without excellent ear protection, very few people give the same consideration to protecting their hearing around fireworks. The result is a lot of unintended hearing damage that may not noticeably impact hearing until a later date and therefore may never be linked back to the fireworks display. The risk is particularly high for children, whose ear canals are smaller than adults resulting in greater internal ear pressure and louder perceived sounds.
Abry Hearing Center of Cedar Rapids IA encourages everyone to be safe while having fun this July 4th by observing some fireworks safety tips.
1. Watch the displays from a safe distance. For a firework that explodes at 170 decibels, stand at least 15 to 20 meters away. Children should stand 50 to 60 meters away from that same firework and infants should not be exposed to fireworks at all.
2. Use ear protection. Over-the-ear "muff" style headphones used by shooters are a good choice because they are specifically designed to block short duration, high volume sounds (such as gunshots and fireworks). Foam ear plugs that sit inside the ear are not as good as muffs, but are better than nothing. Look for the highest Noise Reduction Rating possible.
3. Get professional help for ear pain, hearing loss or ringing in the ears. Any change in hearing ability - whether immediately after the fireworks show or several days later - is cause for concern and a hearing test. A qualified hearing specialist will be able to assess your hearing and provide treatment options.
Fireworks are exciting, but dangerous too. While most fireworks safety advice focuses on preventing burns, the invisible damage to your hearing can have a greater impact on your future quality of life. Abry Hearing Center wishes everyone a safe 4th.
About Abry Hearing Center:
Abry Hearing Center has provided hearing aids in Cedar Rapids IA and its surrounding communities for several years. The company offers a full range of diagnostic and preventative hearing healthcare professional services, including hearing aid screening, evaluations, hearing aids sales and rehabilitative and preventative counseling. Abry Hearing Center offers clients hearing aids, hearing testing, hearing aid repairs, hearing aid evaluations, video otoscopy, speech mapping, and nationwide warranties. The Abry Hearing Center website offers visitors information about all of these services and also offers a variety of information about hearing and hearing aids. The site even offers an online hearing test for adults. People who have tried hearing aids from Abry Hearing Center have been very satisfied with the service they receive. Abry Hearing Center is located on Center Point Road in Cedar Rapids. Those who want to learn more can visit the company's website or call for an appointment.
Contact:
Mr. Bill Fletcher
http://cedarrapidshearing.com
Abry Hearing Center
3741 Center Point Road Northeast
Cedar Rapids, IA 52402
(319) 540-8276