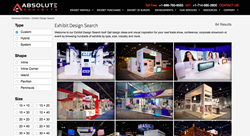 The tool will not only be a source for design inspiration but also education.
Tustin, CA (PRWEB) August 24, 2016
The hustle and bustle of today's busy exhibition floor requires exhibitors to have unique and engaging exhibit designs to stand out amongst the crowd. In an effort to support exhibitors during the critical planning process, Absolute Exhibits has unveiled its Exhibit Design Search – an online tool that allows users to browse exhibit photos for design ideas and visual inspiration.
The Exhibit Design Search tool currently hosts hundreds of photos and offers users the ability to filter by type of construction, booth configuration, booth size and other options.
"The Exhibit Design Search tool was initially intended for our clients," said Mike Plata, Director of Marketing at Absolute Exhibits. "However, the project soon evolved to be about building a free online resource that could benefit the entire exhibition industry – client or not."
Absolute Exhibits President, Jan Koren, said the new tool also provides an opportunity for the company to share its own expertise and creative capabilities with potential exhibitors.
"We're excited to share our work with the exhibition community and with companies that may be interested in working with an exhibit house like us," said Koren.
Although the Exhibit Design Search tool just launched, the company is already discussing new features for future versions.
"The tool will not only be a source for design inspiration but also education," said Plata. "Eventually, with every photo, we intend to provide project details, design suggestions, client feedback and comments to encourage community dialogue."
See the online tool at http://www.absoluteexhibits.com/exhibit-design-search.
About Absolute Exhibits
Established in 2000, Absolute Exhibits is a single-source exhibit house that specializes in the design and fabrication of custom exhibits for over 300 domestic and international trade shows, corporate showrooms and museums.
Absolute Exhibits is headquartered in Tustin, California, with additional facilities in Las Vegas, Nevada; Orlando, Florida; Chicago, Illinois; Würzburg, Germany; and Bucharest, Romania.
For more information, visit http://www.absoluteexhibits.com.