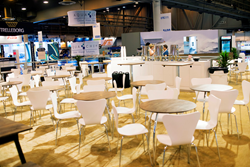 Absolute Exhibits can build complete stainless steel kitchens with refrigeration, running water, stoves, convection and microwave ovens.
Tustin, CA (PRWEB) December 15, 2015
There are three types of trade shows where food is served from an exhibit space - international food show, regional food shows and industry food shows.
International food shows include Produce Marketing Association, National Restaurant Association, International Food Technology, Winter and Summer Fancy Foods, and Nightclub & Bar. Regional food shows are generally more service-type shows that offer local deliveries of food and supplies. General industry food shows allow exhibitors to serve food for entertainment value or to host clients. These include shows where the normal procedure is to purchase from the onsite catering services, and in some cases include an eating area or a lounge as part of the booth space.
The first type of shows do not have the jurisdiction rules for serving food that prevent onsite cooking, as they are true cuisine and beverage shows. Exhibitors can cook in any size exhibit space and long lines of show attendees create traffic jams on the show floor, however, this is expected.
The second group of shows has rules and regulations. The bigger the show the more likely exhibitors will be allowed to cook and serve in the exhibit space, as onsite catering will be overtaxed by the sheer number of food order requests. Absolute Exhibits has experience building complete stainless steel kitchens with refrigeration, running water, stoves, convection and microwave ovens.
Everything depends on the individual guidelines for a particular show. In some cases exhibitors can serve, even bake cookies, in an exhibit space. However, arrangements with the onsite caterer may include paying for the privilege of dispensing food to show attendees. Exhibits that dispense food and drinks continue to be the most popular on any trade show floor.
About Absolute Exhibits:
A leading exhibition firm, Absolute Exhibits provides clients with turnkey solutions for designing and fabricating exhibits while managing the entire trade show experience as a one-source trade show and convention exhibit resource. Established in 2000, with locations in Southern California, Las Vegas, Orlando, and Bucharest, Romania, Absolute Exhibits rents and sells custom and system exhibits at over 300 shows in the USA and in countries around the world.