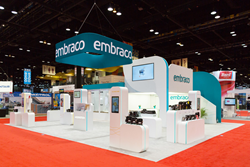 Absolute Exhibits is a high volume rental exhibit manufacturer and has serviced AHR's exhibitors for the past fifteen years.
Tustin, CA (PRWEB) December 16, 2015
With 400,000 square feet of exhibition space, the AHR Expo will have nearly 2,000 companies representing every segment of the HVACR industry. Set to run January 25-27 in Orlando, AHR Expo will be a one-of-a-kind opportunity to find hundreds of new products and technologies related to acclimatization and refrigeration. Absolute Exhibits, a high-volume rental exhibit manufacturer and service provider, will be assisting exhibitors at this year's AHR Expo.
Absolute Exhibits has serviced AHR's exhibitors for the past fifteen years. With two manufacturing facilities in Las Vegas and Orlando, and thoughts of a Midwest facility next, along with a Romanian office that services all of Europe, Absolute Exhibits can sign on with clients for rental services throughout the USA. Sales orders include exhibit design, assigned project management, furniture, flooring, AV equipment, fabrication, shipping, and installation and dismantle. There will be no post show billing. This service and billing format is the rental package that positions Absolute Exhibits apart from other exhibit providers in the USA.
Even with all of today's modern communication tools, nothing can take the place of seeing and comparing equipment and services in person. At AHR, you can get the information you need directly from the experts, and build relationships with suppliers.
About Absolute Exhibits
A leading exhibition firm, Absolute Exhibits provides clients with turnkey solutions for designing and fabricating exhibits while managing the entire trade show experience as a one-source trade show and convention exhibit resource. Established in 2000, with locations in Southern California, Las Vegas, Orlando, and Bucharest, Romania, Absolute Exhibits rents and sells custom and system exhibits at over 300 shows in the USA and in countries around the world.