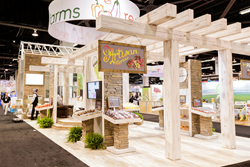 Our Summer Savings Promotion is a win-win for our summer exhibiting clients and our employees.
Tustin, CA (PRWEB) March 31, 2016
Absolute Exhibits, a full-service exhibit house, has announced that it will once again offer its annual Summer Savings Promotion on trade show exhibit rentals. Exhibit rentals packages will receive up to 50% off exhibit rental hardware in all standard sizes and finishes for trade shows, conventions and expos scheduled between June 1, 2016 and August 31, 2016 throughout the United States and Canada.
The Summer Savings promotion applies exhibit rental hardware, including walls, counters, furniture, lighting, audio and visual (A/V) equipment, and 28-ounce carpet and padding with visqueen. The promotion cannot be combined with any other offers or discounts, and is subject to availability.
"Shows come in large waves throughout the calendar year," said Jan Koren, President of Absolute Exhibits. "While our industry spends much of the summer laying off and then recalling fabrication staff, we are not content to do that to our employees. Our Summer Savings Promotion is a win-win for our summer exhibiting clients and our employees."
Koren added, "Beyond Las Vegas, Southern California, and Orlando where we have our offices, Absolute Exhibits will already be servicing exhibits at a number of summer shows throughout the country. Businesses that have not yet secured an exhibit can still contact us and take advantage of our promotion."
Absolute Exhibits will be at the following upcoming shows:

International Woodworking Machinery & Furniture Supply Fair - Atlanta, GA | August 24-27
NACDS Total Store Expo – Boston, MA | August 6-9
American Society of Clinical Oncology (ASCO) Annual Meeting – Chicago, IL | June 3-7
FMI Connect – Chicago, IL | June 20-23
United Fresh – Chicago, IL | June 20-23
Institute of Food Technologists (IFT) – Chicago, IL | July 16-19
AWWA ACE - Chicago, IL | June 19-22
GBTA Convention – Denver, CO | July 16-20
International Dairy Deli Bakery Association (IDDBA) Show – Houston, TX | June 5-7
Hospitality Industry Technology Exposition & Conference (HITEC) - New Orleans, LA | June 20-3
Summer Fancy Food Show - New York, NY | June 26-28
AACC 2016 Annual Meeting & Clinical Lab Expo - Philadelphia, PA | July 31 - August 4
Intersolar North America – San Francisco, CA | July 12-14
SEMICON West – San Francisco, CA | July 12-14
VMWorld – Las Vegas, NV | August 28 – September 1
BIO International Convention - San Francisco, CA | June 6-9
PaxPrime - Seattle, WA | August TBD
For more information, visit http://www.absoluteexhibits.com or call (714) 685-2800.
About Absolute Exhibits
A leading exhibition firm, Absolute Exhibits provides clients with turnkey solutions for designing and fabricating exhibits while managing the entire trade show experience as a one-source trade show and convention exhibit resource. Established in 2000, with locations in Southern California, Las Vegas, Orlando, and Bucharest, Absolute Exhibits rents and sells custom and system exhibits at over 300 shows in the USA and countries around the world.