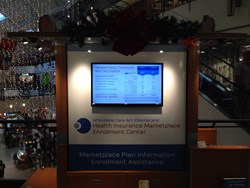 Mesquite, Texas (PRWEB) November 05, 2013
Today, Agility Insurance Services ("Agility"), a life, accident and health agency located in Addison, Texas, opened its flagship retail location at Town East Mall in Mesquite, Texas. Agility's licensed insurance agents will staff the location during the Affordable Care Act (aka Obamacare) open enrollment period which ends on March 31, 2014.
Beginning in 2014, most Americans must have minimum essential coverage to meet the individual responsibility requirement under the Affordable Care Act. Minimum essential coverage includes individual market policies, job-based coverage, Medicare, Medicaid, CHIP, TRICARE and certain other coverage.
At the Town East Mall retail location, mall visitors have an opportunity to speak with a licensed agent for more information about marketplace plan benefits, tax credits (subsidies), penalties, and enrollment options. Coverage for individuals who enroll in a marketplace plan on or before December 15, 2013 will begin on January 1, 2014. In light of the website glitches that have plagued the healthcare.gov website, Agility expects to educate and enroll thousands of visitors using multiple marketplace enrollment options.
Town East Mall is located at 2063 Town East Mall, Mesquite, Texas 75150. Agility's retail location will be open during all mall hours, including expanded hours throughout the holiday season.
For more information about Agility Insurance Services or to become an agent, visit Agility Insurance Services online at http://www.enrollinsurance.com or call 866-590-9771.