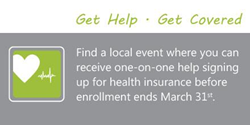 Cleveland, OH (PRWEB) March 14, 2014
With the recent passage of the Affordable Care Act (ACA), health insurance is now required by law. Many Americans who are currently uninsured or underinsured can shop for health insurance through the Health Insurance Marketplace, but ACA open enrollment ends on March 31.
As the ACA open enrollment deadline approaches, The Center for Health Affairs applauds the many organizations that are working to enroll and educate those eligible for insurance. One such organization is Carmella Rose Health Foundation, a group that helps people access quality medical care and navigate the healthcare system in Northeast Ohio.
Leading up to the March 31 ACA open enrollment deadline, Carmella Rose will be offering one-on-one help signing up for health insurance at the following public locations:
Friday, March 14 from 4:30-6:30 p.m.
Silver Bee Party at Trinity Commons
2230 Euclid Ave.
Cleveland, OH 44115
Saturday, March 15 from 4:30-8 p.m.
The Word Church
18909 South Miles Rd.
Warrensville, OH 44128
Wednesday, March 19 from 12-5 p.m.
Tri-C Metro Campus
2900 Community College Ave.
Cleveland, OH 44115
Wednesday, March 26 from 12-3 p.m.
Tri-C Eastern Campus
4250 Richmond Rd.
Highland Hts., OH 44122
If you can't make it to one of these events you can enroll on your own at healthcare.gov. Additional assistance and navigator services are available at ohioforhealth.org or by calling 800.318.2596.
Northeast Ohioans can get connected to local enrollment assistance by calling 2-1-1.
###
As the leading advocate for Northeast Ohio hospitals, The Center for Health Affairs provides members with vital services and resources aimed at enhancing the region's healthcare community. The Center delivers on this goal by focusing its efforts on areas that benefit from a regional approach: Healthcare Workforce; Emergency Preparedness; Public Policy & Advocacy; Finance & Reimbursement; and Community Initiatives. With a rich history as the Northeast Ohio hospital association, dating back to 1916, The Center serves as the collective voice of hospitals and the source for Northeast Ohio hospital and healthcare information. As leaders, we continuously scan the periphery, looking for opportunities to enhance the region's workforce, better prepare our hospitals for an emergency, and increase the region's wage index. And because of our business affiliation with CHAMPS Healthcare, we have the resources to provide a broad level of professional services to our members. The Center, located in downtown Cleveland, is proud to advocate on behalf of 38 acute-care hospitals and two long-term acute-care hospitals in six counties. For more, visit chanet.org.