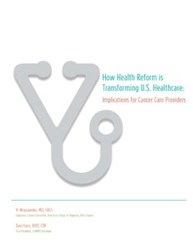 Cleveland, Ohio (PRWEB) October 03, 2013
Dr. Valeriy Moysaenko and CHAMPS Oncology's Toni Hare are pleased to announce the release of their latest collaboration, a white paper entitled, How Health Reform is Transforming U.S. Healthcare: Implications for Cancer Care Providers. This in-depth publication examines the key provisions in the Patient Protection and Affordable Care Act that impact cancer care. From the Physician Quality Reporting System's aim to boost quality measures reporting to the potential for accountable care organizations to transform care delivery, this brief sheds light on these and other key ACA provisions impacting cancer care.
The release of the white paper comes just as many of the ACA provisions relating to cancer care are beginning to take effect. As a result of the law, cancer care is evolving. Healthcare delivery systems are being transformed to ensure care is more patient-centered and integrated. At the same time, numerous ACA provisions are removing barriers that once stood in the way of patients accessing needed care. As the ACA has begun to change care delivery, patients and providers want to learn more about the key ACA provisions impacting cancer care specifically.
"One thing we really wanted to focus on was how health reform heightens the focus on quality and what cancer care providers can do to prepare," said Hare, on why she and Moysaenko believed it was important to write on the ACA provisions. "With the ACA there will be a lot more transparency, which makes it more important than ever for cancer care providers to understand what they should be doing today to be ready for the new quality landscape."
This is the second collaboration between Hare and Moysaenko, who in 2010 published The Continuing Pursuit of Excellence: Advancing Cancer Care through Quality Improvement, a white paper examining the concept of quality in cancer care.
To learn more about these publications or how provisions in the ACA are impacting cancer care, contact Toni Hare at 216.255.3716. An accompanying PowerPoint presentation is also available.