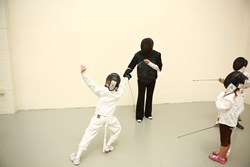 Our homeschoolers fencing program is done in small groups, allowing students to play, learn and condition all at once.
Campbell, CA (PRWEB) September 12, 2013
The AFM Homeschoolers program develops and encourages the spirit of healthy rivalry and competition. Through the Homeschooler program at Academy of Fencing Masters, students learn that fencing is a great source of exercise, improves hand-eye coordination and overall physical fitness as well as teaches emotional control, courage and self-discipline all in a fun social environment.
"The Homeschooler program brings the love of fitness to children as they receive homeschooling PE credit for their participation," Irina Chirashnya, founder of Academy of Fencing Masters, explained. "We meet all the requirements that the state expects for PE homeschooling credit. In addition, students develop a long-term love of exercise, an increased ability to focus and eye-hand-foot coordination, all of which are vital for long-term success in the modern era."
"Also, it gives students a chance to socialize," Natasha Maximovich, Ph.D., AFM fencing coach and specialist in child mental and physical development, stated. "Often times, parents are concerned that their homeschooled child won't get enough social interaction. Our program is done in small groups, allowing students to play, learn and condition all at once."
"Moreover," Chirashnya said, "many students develop a love of fencing. Some of the greatest fencers in America come from homeschooler programs. This opportunity is more than just PE credit; it's an exercise program that shapes and prepares students for life. We will work with the student and parents on advancing the student to the next level and still meet the homeschooler state requirements."
Homeschooler classes are offered Monday and Wednesday from 10 a.m. to 11 a.m. or students may enroll in the standard afternoon class. AFM's Homeschooler program costs $130 a month. Equipment is provided by AFM.
For more information or to contact AFM, please visit our website at academyoffencingmasters.com.
About Academy of Fencing Masters (AFM):
Academy of Fencing Masters seeks to develop all level of fencers at any age, from beginners to Olympic athletes, through elite coaches, state-of-the-art facilities, and supportive community for both the fencer and family. AFM prepares athletes for fencing and for life.