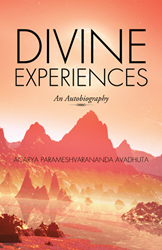 A practical pursuit that is relevant to society.
NEW YORK (PRWEB) September 24, 2015
An enlightening journey into spirituality and mysticism awaits readers in "Divine Experiences" (published by Partridge Singapore). Written by Acarya Parameshvarananda Avadhuta, a very senior member of the global, spiritual and social service organization, Ananda Marga - this book offers transcending wisdom that aims to guide every spiritual aspirant in their chosen paths.
"Divine Experiences" is an autobiographic collection of Acarya Parameshvarananda's sojourn into the wondrous world of divinity. Through the guidance of his guru, Baba, he relates the genuine experiences he encountered in exploring the deeper realms of his consciousness. Themes on mysticism, cosmic brotherhood and universalism are expanded as it serves to show that spirituality is not just a set of moral principles, religious or ritualistic observances, or merely an extravagant philosophical pursuit, but is at once, in the author's words, "a practical pursuit that is relevant to society."
Given primary focus are the social and spiritual teachings of Baba which are authentically supported by the author's divine experiences and the guru's unique spiritual demonstrations, some of which were experienced for the first time in human history. Also shown is the ongoing shift in human consciousness towards a higher reality, a sign that shows man's innate thirst towards the pursuit of limitlessness.
Shining a beacon of hope in a world that is clouded with excessive materialism, "Divine Experiences" offers a step towards the light which guides man towards ultimate spiritual fulfillment.
"Divine Experiences"
By Acarya Parameshvarananda Avadhuta
Hardcover | 5.5x8.5in | 460 pages | ISBN 9781482831719
Softcover | 5.5x8.5in | 460 pages | ISBN 9781482831702
E-Book | 460 pages | ISBN 9781482831726
Available at Amazon and Barnes & Noble
About the Author
Acarya Parameshvarananda Avadhuta was initiated into the Tantric spiritual practices of Ananda Marga in July 1961 and is an advanced Yogic monk who has experienced many varieties of spiritual experiences by the grace of his Guru, some of which are very rare. He took to a life of a renunciant in the early part of 1965 and a year later, in September 1966, he was inducted into the ancient order of Avadhutas. He has more than 50 years of experience as a senior missionary. Acarya Parameshvarananda is a blend of an accomplished yogi, a great devotee, a selfless worker and a lover of humanity. He has held several senior positions in Ananda Marga and is a member of the Purodha Board, the highest decision-making body in the organization. He is currently involved in spiritual work and social service projects in India and abroad.
Partridge Singapore is a partnership between the Penguin Group, the world's foremost trade book publisher, and Author Solutions LLC, the industry leader in supported self-publishing, that aims to help writers in Singapore, Malaysia, and the rest of Southeast Asia become published authors. Partridge Singapore gives authors in the region direct access to a comprehensive range of expert publishing services that meet industry standards but are more accessible to the market. For more information or to publish a book, visit partridgepublishing.com/singapore or call 800 101 2657 (Singapore) or 1 800 81 7340 (Malaysia). For the latest, follow @PartridgeSG on Twitter.