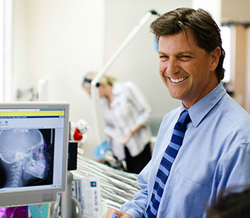 Many of our patients have already completed their treatment using Acceledent and they have all been amazed by their quick progress
Newport Beach, CA (PRWEB) July 17, 2014
Dr. John DiGiovanni, a Newport Beach orthodontist with over two decades of experience, is proud to announce that he is now offering the Acceledent system to his patients. As Dr. DiGiovanni explained, this innovative treatment can decrease the time that patients need to wear braces by as much as 50 percent. In addition, many of his patients who have been fitted for the Invisalign system are also using Acceledent.
"Acceledent is a medical device that has been used in medicine for years to stimulate bone healing, breaks, and even help with osteoporosis," Dr. DiGiovanni explained, adding that he was part of a focus group that gave input on the device and its adaptation to orthodontics, and is now one of the first doctors in the country to offer it to his patients.
"Many of our patients have already completed their treatment using Acceledent, and they have all been amazed by their quick progress."
The Acceledent System is an appliance that is used along with braces or removable appliances like Invisalign. Orthodontic patients simply need to wear the device for just 20 minutes a day to decrease their overall treatment time by as much as half. For people who want to have straighter teeth but are reluctant to get braces due to the time that is involved, the Acceledent system is a fantastic option.
"It is a very easy and painless process," Dr. DiGiovanni said, adding that interested people should schedule an appointment to go over the procedure.
Anybody who would like to learn more about Dr. DiGiovanni and his Newport Beach practice is also welcome to visit his user-friendly website; there, they can read about the many other types of orthodontic services he offers, including treatments for young kids to adults.
About Dr. John DiGiovanni:
Dr. John DiGiovanni is proud to have offered top-quality orthodontic care to numerous families throughout Orange County, Calif. for over 20 years. As an orthodontist, Dr. DiGiovanni is dedicated to making each patient's experience as enjoyable and stress-free as possible by providing state-of-the-art care in a fun, friendly and nurturing environment. For more information, please visit http://www.braceyourself.org/.