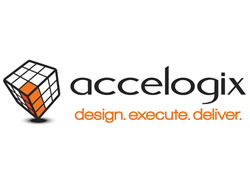 "This strategic expansion will allow us to prepare for forecasted growth in 2017 while maintaining the team collaboration needed to deliver exceptional results for our clients." - Ryan Kirklewski, VP of Consulting Services
Cary, NC (PRWEB) January 13, 2017
Accelogix, a leading IT service provider for Supply Chain Execution Systems, has expanded its Cary, North Carolina office to accommodate growth in enterprise software consulting practices and cloud services. Phase I of the expansion project has nearly doubled available office space, which has allowed the company to centralize administrative functions, expand internal IT infrastructure, and enhance collaboration capabilities throughout the services organization. Phase II expansion in 2017 will include an additional 50% of office space with enhanced reception and conferencing spaces.
"We are excited to have so much momentum going into 2017," said Accelogix Vice President of Consulting Services, Ryan Kirklewski. "This strategic expansion will allow us to prepare for forecasted growth while maintaining the team collaboration needed to deliver exceptional results for our clients."
In 2016, Accelogix rapidly expanded its Brookfield, Wisconsin office and debuted on the Inc. 5000 list in its first year of eligibility, ranking No. 764 with a three-year sales growth of 521%. Since then, Accelogix has further developed software vendor partnerships, accelerated value-added R&D projects, and expanded Accelogix Cloud, which now includes managed cloud hosting for a wide range of mid-market enterprise software applications. Accelogix Cloud gives small and midsize enterprises (SMEs) affordable access to enterprise-grade software solutions, which allows SMEs to capitalize on the strategic advantage their solutions give them while minimizing IT spending and maximizing return on investment.
About Accelogix
Accelogix is a leading provider of consulting, implementation, development, and Cloud services for Supply Chain Execution Systems with consulting practices in JDA Supply Chain and HighJump WMS (warehouse management systems). Founded and managed by supply chain efficiency and logistics management software experts with decades of combined experience, Accelogix provides full lifecycle implementation and systems integration services for manufacturing, distribution, and transportation across every major industry vertical.