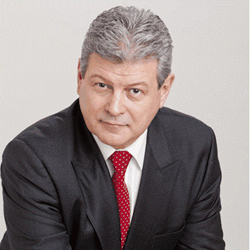 Barcelona (PRWEB UK) 19 March 2015
Accelya, the leading provider of financial and business intelligence solutions to the Airline and Travel industry, recently announced the appointment of John Johnston as Group Chief Executive Officer. John's induction in Accelya's leadership team is a part of the succession plan of Philippe Lesueur, President Accelya Group, who will continue to remain on the Board of Accelya companies and serve as an advisor.
John Johnston was until recently, Chief Executive Officer of Champ Cargosystems and has been responsible for the creation and growth of CHAMP Cargosystems into the world's largest dedicated IT provider to the Air Cargo Industry. During his career, John has held senior executive positions in several countries and has provided senior management and consulting services to a number of Global Airlines.
Commenting on his appointment John Johnston, Group CEO said, "Accelya is a great company and leader in its field, providing exceptional customer service. I am excited about the opportunity to drive further growth, expanding the global team and opening new markets."
"We are happy to get John on board. John is a proven leader, with a great track record for growth and I am confident that he is the right person to lead the group," said Philippe Lesueur, President, Accelya Group.
About Accelya
Accelya is a leading provider of financial and business intelligence solutions to the Airline and Travel industry. Accelya helps airline and travel companies manage their financial processes and gain insights into their business performance.
Accelya's expertise spans across all critical airline financial processes – BSP Processing, Revenue Accounting, Audit & Revenue Recovery, Card Management, Miscellaneous Billing, Cost Management and Business Intelligence. Accelya partners with airlines right from the time a ticket or an air waybill is issued, all the way through its entire financial life cycle, until the data is converted into actionable decision support.
With over 200 airline customers and operations spread across 9 countries, employing over 2000 professionals worldwide, Accelya is a market leader and innovator.
Accelya has been voted as 'IT Company of the Year' at Air Transport News Awards 2014 and 'Information Technology for the Air Cargo Industry' at ACW World Air Cargo Awards 2014. Visit us at: http://www.accelya.com
For more details, please contact:
Mitul Mehta
Head-Marketing
Accelya Group
Tel: +91.22.6780.8888
Email: media(at)accelya(dot)com