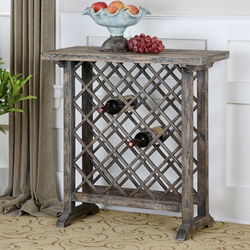 Accent tables that are shaped to be useful - say to double as TV trays, wine racks, or stemware holders - add utility to the space without drawing attention to themselves.
(PRWEB) March 21, 2014
HomeThangs.com – the Online Home Improvement Store has made their goal to deliver the right product to the consumer. With that in mind, shopping and home design tips, as well as special product selections are being introduced.
Entertaining in small spaces can be quite difficult. Not only is it harder to seat and accommodate guests, but it's also more difficult to strike a balance between furniture that's good for entertaining and furniture that's useful on a day to day basis. HomeThangs.com has introduced a guide to a few types of furniture that are both, making it a little easier to entertain without taking up much extra space.
Serving Cart
Antique serving carts, while an unconventional option for a living room, are actually good one for entertainers stuck with a small space. Repurposed antique furniture is quite popular right now, and a glass and aged metal cart has a nice sophisticated, traditional touch that will look great as an unusual accent piece. But it's also a practical spot to store food or drinks, and many models can be wheeled around the room to be placed more conveniently for serving.
TV Trays
TV trays aren't exactly the pinnacle of fine dining or high class entertaining, but they're easy to stow and add surface space in a pinch. The trick is to avoid generic TV trays and opt instead for a more designer style. That can mean trays that are built out of more interesting materials, have striking designs, or even ones that pose as unique accent tables. This last option works especially well in a small space, because they blend in completely when not in use, but can easily pull in front of a sofa or chair and are specifically shaped to work as a tray.
Decorative Wine Rack
Anyone who drinks a decent amount of wine should store at least some wine in the room where it'll be served. A basic wood wine rack will do the trick; designs range from simple to ornate, from petite tabletop racks that will hold a bottle or three to big, latticed console tables that can hold two dozen or more. Even rather large wine racks are only about as deep as a wine bottle, meaning they can easily be stowed up against a wall or behind a sofa without taking up much space at all.
Accent Table
In addition to accent tables that double as TV trays, there are also ones that moonlight as serving trays and stemware holders. These petite, attractive pieces work just like any other accent table, but have a few subtle features that make them useful for entertaining. Some have simple, stylized handles that allow them to be easily lifted and moved, others have grooves carved on the underside of the tabletop for storing stemware, and still others are designed to store bottles of wine. Generally these tables are quite small, so they won't be obtrusive on a day to day basis, but have enough hidden features that they can make a big difference when it comes to entertaining.
Hideaway Seating
One of the biggest challenges of entertaining in a small space is having enough seating when it's needed without overcrowding the space when it isn't. Coffee tables with hideaway seating are one of the top solutions. These combine a totally ordinary coffee table with four small, square cushioned seats that tuck underneath the tabletop. When they aren't in use, the table has a fairly solid, square appearance, but when needed the chairs pull or roll out from underneath, leaving a sleek table on an X shaped base and plenty of seating for four.
HomeThangs.com is not only a home improvement superstore, it also provides expert design tips and a comprehensive shopping guide, taking the ideas from professional interior designers, and offering tips to the consumers on how to pick the products to best suit their needs.