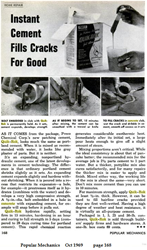 Trademark issued Feb 20, 1969; First use July 10, 1959
Bryant, AR (PRWEB) November 25, 2014
Quik-Rok has now been offered for 45 years, and it is still the same product it has always been.
Fence Brokers, Inc. stocks Quik-Rok for the advantages it offers. Quik-Rok offers the same advantages today as it always has. Quik-Rok is a hydraulic cement product, chemically engineered so that when mixed with water, it forms a fast-setting grout with self-leveling characteristics.
Quik-Rok is designed to set within 15 minutes, even in subfreezing temperatures, down to 20 degrees Fahrenheit. Quik-Rok won't loosen, shrink or crack from extreme stresses, vibrations, heat or cold. As an additive, it is the ideal product for setting fence post.
As a grout, Quik-Rok anchors iron and aluminum railings, sign posts, parking meters and traffic signals. It is exceptional for repairing concrete floors in all commercial and industrial buildings. Consequently, the diversity of this product permits Fence Brokers, Inc. a broader range of customers.
Fence Brokers, Inc. carries and supplies Quik-Rok for all their customers. For more information about Quik-Rok or Fence Brokers, Inc., call 800-272-2215 or visit their website at http://www.fencebrokers.com/.
About the company:
Fence Brokers, Inc. has been in business for 32 years providing Arkansas and the surrounding areas with high quality products and superior service. Fence Brokers, Inc. prides itself on being a one-stop shop for fencing supplies. They offer a wide range of products to suit a variety of fencing applications, including galvanized chain link, vinyl coated fencing, ornamental fencing, access control systems, fencing tools and equipment and more. Fence Brokers' qualified staff has more than 120 years of combined experience and is ready to answer any questions their customers have regarding fencing materials or installation. For more information about Fence Brokers and their fencing products, visit http://www.fencebrokers.com.