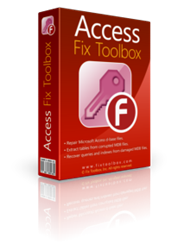 a powerful MS Access Fix tool combining an intuitive interface and unparalleled efficiency.
San Diego, CA (PRWEB) August 08, 2013
Fix Toolbox, a leading expert in the field of data recovery for a number of mainstream and professional applications, is glad to present the newest and most advanced version of http://www.fixaccessfile.com/ Access Fix Toolbox, a small tool that enables users to restore the contents of corrupted MDB and ACCDB database files damaged after all kinds of data corruption incidents: power failures, OS crashes, interrupted downloads, hardware malfunctions and virus attacks. The completely rewritten data recovery core of the program now uses a combination of intelligent algorithms to ensure the extraction of the maximum of data. Access Fix Toolbox http://www.access.fixtoolboxx.com features a convenient preview module that allows the user to see recoverable data prior to their extraction and navigate through them using a convenient tree. The interface of this Access fix tool is based on an intuitive multi-step wizard that requires a bare minimum of user involvement, this making the software a good choice for novices and professionals alike. Since the program restores data directly to Access, the latter must be installed on the user's system at the time of recovery.
"We are excited to present our newest MS Access fix tool to the market," says Boris Bobrov, Head of Sales at Fix Toolbox http://www.fixtoolboxx.com . "The product now has a brand-new core that is much more efficient, especially when it comes to seriously corrupted files. I really hope that Access Fix Toolbox will help a lot of users out there to restore their databases without losing much data or losing nothing at all."
The free demo version of Access Fix Toolbox is available for download from the official website of Fix Toolbox. http://www.fixtoolboxx.com/download.html