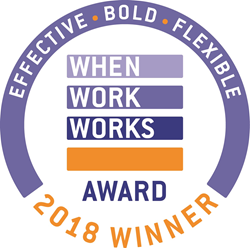 We know that our success has always been founded in the talents and passion of our people," said Casey Kleinman, CEO. "I think that's why it's easier for us to embrace change in the workplace. It's who we've always been.
SALT LAKE CITY (PRWEB) November 27, 2018
For the second year in a row, Access Development has been honored with the When Work Works award from the Society for Human Resource Management (SHRM). The accolade is given annually to a handful of organizations nationwide in recognition of innovative and effective workplace practices.
The When Work Works project is a national initiative begun by SHRM to help employers become more successful, transforming the way they view and adopt effective and flexible workplaces. Each year, it recognizes employers of all sizes that excel at offering a variety of top-rated employee initiatives such as work-life fit policies, flexible scheduling and transition to parenthood programs.
"Like most companies, we've wrestled with how much the nature of work and the workplace itself have changed over the years," says Casey Kleinman, CEO of Access Development. "We know, however, that our success has always been founded in the talents and passion of our people. I think that's why it's a little easier for us to embrace change in the workplace. It's who we've always been."
In applying for the award, Access Development was evaluated on factors associated with employee health, well-being and engagement: opportunities for learning; a culture of trust; work-life fit; supervisor support for work success; autonomy; and satisfaction with earnings, benefits and opportunities for advancement.
Flexible work arrangements are consistently ranked by employees as one of Access Development's most valued benefits. Others include the company's culture of physical and mental health, a generous PTO policy, its active involvement in charitable giving and community service, and a robust employee discount program that saves workers money on their everyday needs.
"These organizations developed HR policies and programs to support and maintain this environment, and they are reaping the benefits with increased retention, productivity, and overall success for their investment," said Lisa Horn, SHRM vice president, Congressional Affairs.
The award is earned after a rigorous assessment that emphasizes the real-life experiences of employees and incorporates national benchmarks of employer practices from the National Study of Employers and the employee experiences from the National Study of the Changing Workforce. Two-thirds of an organization's winning score is based on a survey of its employees.
Additional information about the When Work Works Award and the When Work Works initiative is available online.
About Access Development
For over 30 years, Access Development has helped organizations with their customers and build revenue, engagement, and loyalty through premium incentives, employee perks, and discount programs. The company's private discount network of over 350,000 merchant locations is America's largest, providing discounts of up to 50% on everyday items to millions of end users. Access also offers the nation's largest mobile commerce platform, featuring over 200,000 merchants offering exclusive "show your phone" mobile coupons. For more information on Access, please visit http://www.accessdevelopment.com or follow us on Twitter and LinkedIn.