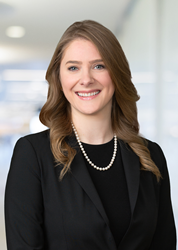 "Ada brings a wealth of corporate legal expertise, and I am delighted to welcome her to our team," said Anurag Jain, Chairman at Access Healthcare.
DALLAS (PRWEB) October 13, 2021
Dallas-based Access Healthcare, a leading provider of healthcare revenue cycle and technology, today announced the appointment of Ada Guidotti Finkel as General Counsel.
Ada will be responsible for managing Access Healthcare's legal and regulatory matters. Ada brings extensive experience in outsourcing, software licensing, strategic business ventures, governance, risk management, and regulatory compliance working with the healthcare, financial services, and technology industries.
Before joining Access Healthcare, Ada worked for Ernst & Young LLP, where she assisted in transforming its managed services offering across all services lines. Earlier, while at Morgan, Lewis & Bockius LLP, she assisted clients with pursuit strategies and RFPs to procure various technology and commercial services.
Ada also worked in-house representing athenahealth, Inc., a leading healthcare technology company focused on managing medical records, revenue cycles, patient engagement, care coordination, and population health. Earlier, she represented Dell Services (formerly Perot Systems) as a lead complex transactional attorney in the healthcare industry, then as Chief Counsel to the business process and applications business units.
In 2018, Ada was named a Next Generation Lawyer in media, technology, and telecoms: Outsourcing by The Legal 500 US. She has published several articles on commercial and regulatory topics and has been a regular speaker on outsourcing, technology, and commercial negotiation strategies.
"Ada brings a wealth of corporate legal expertise, and I am delighted to welcome her to our team," said Anurag Jain, Chairman at Access Healthcare. "She brings a unique experience working with leading healthcare technology and services companies in contract law, software as a service, cloud computing, and data management. With her appointment, we are further strengthening our senior leadership team as we continue to focus on Access Healthcare's growth and long-term success."
Ada holds a Juris Doctor from Suffolk University School of Law, a Master's in Business Administration from Suffolk University's Sawyer School of Management, and a Bachelor of Science in Business Administration from Sonoma State University.
ABOUT ACCESS HEALTHCARE
Access Healthcare provides business process outsourcing, applications services, and robotic process automation tools to hospitals, health systems, providers, payers, and related service providers. The company operates from 19 global delivery centers in the US, India, and the Philippines. Their 17,000+ staff is committed to bringing revenue cycle excellence to clients by leveraging technology, emerging best practices, and global delivery. Based in Dallas, TX, the company supports over 400,000 healthcare providers through 80+ clients, serving 80+ specialties, processing over $100 billion of A/R annually, and ascribing medical codes to over 30 million charts annually.
With over 3,500 virtual bots in operation, Access Healthcare's proprietary robotic process automation platform helps its clients improve efficiency. Access Healthcare has achieved HITRUST, PCI DSS, SOC, ISO 27001, and ISO 9001 certifications, providing the needed security, availability, and confidentiality of sensitive health information. Their people program, integrated processes, and proven track record of service delivery have earned Access Healthcare the Leader and Star Performer award by Everest Group's Healthcare Provider BPO Peak Matrix. For more information, visit accesshealthcare.com.