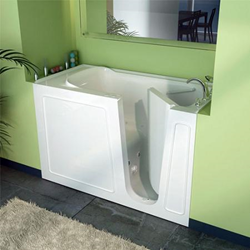 Having an accessible shower is one of the most crucial features of an age in place bathroom, as being able to bathe unaided, even with limited mobility, is a key factor in remaining independent.
(PRWEB) October 24, 2013
HomeThangs.com – the Online Home Improvement Store has made their goal to deliver the right product to the consumer. With that in mind, shopping and home design tips, as well as special product selections are being introduced.
It's an unfortunate fact that with age comes a gradual loss of mobility. These days, people are living longer, and that means it's more important than ever to consider long-term quality of life early on. For those who wish to remain in their homes, adding accessibility features before they're needed is an important first step. Having at least one accessible bathroom is especially crucial for retaining independence and HomeThangs.com has introduced a guide to some of the most important accessibility features to include.
1. Faucet
Standard bathroom faucets can present a problem to those with arthritis, who may not be able to grip the handle well enough to turn the water on and off. Faucets with lever style handles are much more accessible, as they can be turned on and off with less force and no gripping. Motion sensing faucets are even easier to use, and often qualify as a "green home" feature because they consume less water.
2. Vanity
Wall mounted vanities are more accessible than traditional cabinets. First, the storage in a wall mounted vanity is kept at about waist level, meaning retrieving oft-used items doesn't require bending or stooping. Also, these vanities can be mounted at different heights to suit different users, to ensure a greater degree of comfort. Because they have no large bottom cabinet, wall mounted vanities can also comfortably accommodate seated users.
3. Shower
Having an accessible shower is one of the most crucial features of an age in place bathroom, as being able to bathe unaided, even with limited mobility, is a key factor in remaining independent. An accessible shower should be easy to get in and out of (even with a walker or wheelchair), have a comfortable seat, and a hand-held shower for seated bathing. Thermostatic controls help regulate the temperature of the water to prevent burning, and should be located where the water can be turned on and adjusted from outside the shower to further reduce the chance of scalding.
4. Bathtub
Accessible bathtubs should either be low enough to easily step into, or designed with a door that opens or lowers to allow bathers to walk directly into the tub. Large walk in tubs often come equipped with hydrotherapy options, which can help soothe tired muscles and joints, but be aware that walk in tubs aren't without their problems, including that they can't be opened (or exited) until they've drained fully. Depending on the depth of the tub, a standard water heater may also be unable to fill it fully with hot water.
5. Toilet
Installing an accessible toilet is perhaps one of the easiest and most straightforward accessible bathroom features, because unlike most others, it's a straight one-to-one swap. ADA approved toilets are generally taller and have higher seats, which makes them easier to sit down and get up from. For a slightly more luxury look and feel, consider installing a wall mounted toilet at ADA approved heights. These offer the same functionality, but a slightly more streamlined, modern look.
6. Grab Bars
Perhaps the most important component of an accessible bathroom is lots and lots of grab bars: near the toilet and inside and around the shower and tub. Having a sturdy grab bar in these locations can mean the difference between being able to use a bathroom alone and requiring assistance. For those who intend to add age in place features gradually, it's important to at least make sure there is heavy duty backing where the bars will be installed later, to ensure they'll be able to support a person's weight.
7. Location
Even the location of an accessible bathroom is something to seriously consider. In a two story home, as many of these features as possible should be concentrated in a first floor bathroom. If climbing stairs becomes a serious challenge, a fully accessible bathroom on the second floor might not be much help. Even for those who primarily bathe upstairs, it's a good idea to include at least some features – like an ADA approved toilet and lever handled faucets – downstairs for ease of use throughout the day.
For more information about age in place bathrooms, check out the full article here.
HomeThangs.com is not only a home improvement superstore, it also provides expert design tips and a comprehensive shopping guide, taking the ideas from professional interior designers, and offering tips to the consumers on how to pick the products to best suit their needs.