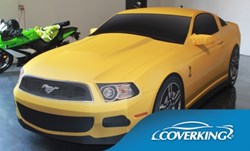 We felt it was important to maintain our current pricing on Amazon in spite of any potential increases in overhead.
Aliso Viejo, California (PRWEB) November 01, 2013
In an effort to expand its reach, AccessorizeYourVehicle.com is expanding the number of channels used to market its products with the addition of the Amazon Shopping Network. AccessorizeYourVehicle.com's products are currently marketed via its web site and the Google Shopping Network. Additionally, their products appear from time to time on the Shopping.com and Become.com shopping networks.
AccessorizeYourVehicle.com's initial product launch on the Amazon Shopping Network is scheduled for November 1st, 2013 at 5:00 P.M. PDT. The initial launch will include over 2,000 of AccessorizeYourVehicle.com's unique SKUs. Additional products will be added as soon as Amazon's extensive product guidelines can be met.
The new product listings will include custom products such as Coverking Custom Seat Covers and universal products such as the popular line of Carolina Consoles Floor Consoles. Products listed on the Amazon Shopping Network will be priced the same as they are at the AccessorizeYourVehicle.com web site.
About AccessorizeYourVehicle.com:
For almost a decade AccessorizeYourVehicle.com has been providing affordable, high-quality accessories for cars, trucks, boats, and ATVs. It offers everything from seat covers to floor mats to anti-theft devices. To find out what AccessorizeYourVehicle.com can do for you, visit http://www.AccessorizeYourVehicle.com. The web site is owned and operated by Noland & Charges, Inc. of Aliso Viejo California.