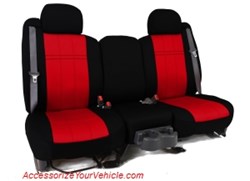 It is important to provide the best customer shopping experience possible.
Aliso Viejo, California (PRWEB) November 01, 2013
AccessorizeYourVehicle.com has implemented an update to the Caltrend custom seat cover lookup widget on their website. The updated widget provides customers an enhanced shopping experience by eliminating the use of iFrames, which can be problematic for some browser programs.
Additionally, the new widget features improved graphics and selection options. The new widget database has also been updated to include all of the latest year make and model combinations. Customers are also able to add multiple rows of seat covers to their shopping cart without entering their vehicle's information multiple times. This is a great convenience and time saver for our customers.
The elimination of iFrames also provides AccessorizeYourVehicle.com with enhanced SEO visibility which will make the AccessorizeYourVehicle.com web site easier to find using today's popular search engines.
Caltrend seat covers are custom made for each order in Southern California. Even though Caltrend maintains the highest quality rating available, they are one of the fastest in shipping their products. Most orders ship in 5 days or less. They are also the only vendor that personally contacts the customer for each order to verify that the proper seat configuration was ordered for their vehicle. As a result, Caltrend also has the lowest return rate of all the AccessorizeYourVehicle.com vendors.
About AccessorizeYourVehicle.com:
For almost a decade AccessorizeYourVehicle.com has been providing affordable, high-quality accessories for cars, trucks, boats, and ATVs. It offers everything from seat covers to floor mats to anti-theft devices. To find out what AccessorizeYourVehicle.com can do for you, visit http://www.AccessorizeYourVehicle.com.