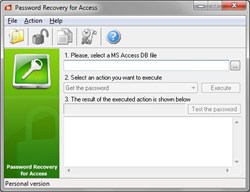 a lightning-fast and highly efficient MDB password recovery and removal tool
Buffalo, NY (PRWEB) November 05, 2013
Microsoft Access databases are used in countless applications, great and small, serving individuals and enterprises across the world. A large fraction of MS Access databases are protected with a password to prevent unauthorized access to data and their modification. However, users working with multiple databases often face the problem of opening databases that they don't have passwords for. These situations may be quite critical, especially if the content of a specific password-protected database is urgently needed.
Password Recovery for Access is a lightning-fast and highly efficient password recovery and removal tool that supports passwords up to 20 characters long in any encoding: numeric, alpha-numeric, Unicode and ANSI. Thanks to its simple and clean interface, even novices can use it without problems.
The software works with passwords for MDB files created in Access 95-2003 and uses a combination of file analysis algorithms to achieve the best password recovery speed. Recovered passwords can be instantly copied to the clipboard or removed from the source file. The software uses known flaws in the security system of MS Access to find passwords, so it is not an illegal hacking tool, but a legitimate solution for Access password removal.
For extra convenience, the program can be used without installation, so you can always have it with you on a USB drive, memory card or external HDD. Give it a test drive: http://www.passwordaccess.com/download/