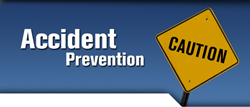 It is important to educate yourselves and children on the appropriate steps to take if an accident is witnessed. This can be a simple step to keep others safe and possible save lives.
Washington, D.C. (PRWEB) October 08, 2013
It is highly likely that most people will witness an accident, particularly an automobile accident, at some point during their life. While it is ultimately the responsibility of emergency professionals to handle the situation, there are some steps pedestrians can take in these dangerous and risky situations, according to AlarmSystemReport.com, a site that provides alarm system reviews of top home alarm systems.
In addition to alarm reviews of home alarm system companies, AlarmSystemReport.com provides safety and security tips. The site has created a list of tips that can help guide individuals in the case they witness an accident.
1. Bystanders should approach the scene of an accident with caution, so that they aren't harmed in the process. This means the bystander should park their own vehicle well out of the way of the accident, and turn on their emergency flashers. It's also important to avoid things like gasoline or downed trees or power lines. If these things are present, the accident scene shouldn't be approached.
2. If an accident victim isn't in immediate danger, they shouldn't be moved. There are numerous injuries that can result from vehicle accidents that can be exacerbated if a victim is improperly moved. If there is immediate danger, such as a fire, a victim can be moved, but only if the bystander is not going to be putting themselves in harm's way in the process.
3. If an accident victim appears to be going into shock, try to help them lie down with their feet elevated. Symptoms of shock include paleness, a lethargic attitude, dilated pupils and shallow breathing. Treating a victim with kindness and speaking in a calm, reassuring tone can also help prevent shock from occurring.
4. If a victim needs help breathing, a bystander can administer CPR. If the accident witness doesn't know CPR, while they're speaking with emergency operators, they may be able to walk them through the steps.
5. Accident witnesses should always remember that assistance should only be provided if it won't put the witness in direct danger. Whenever approaching the scene of an accident, individuals should use the utmost caution to avoid danger, and to prevent causing further harm to the victim. Often, emergency response technicians can guide witnesses through the proper protocol when approaching the site of an accident.
About AlarmSystemReport.com
AlarmSystemReport.com is the nation's leading third-party, independent provider of information relating to the home alarm industry. The site provides reviews and comparisons of the top alarm companies in the country, including FrontPoint Security and Lifeshield Security. Additionally, AlarmSystemReport.com also provides site visitors with valuable pricing information, coupons and discount codes.