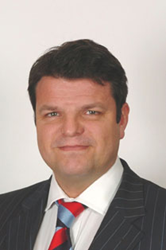 Cyclists can be particular vulnerable to injury. They will often sustain some form of leg or ankle break in accidents where cars are involved.
Poole, Dorset (PRWEB UK) 28 March 2014
Personal injury solicitors at Coles Miller are supporting RoSPA Family Safety Week to help reduce the number of accidents across Britain.
Coles Miller's lawyers are backing the Royal Society for the Prevention of Accidents (RoSPA) campaign (1) through their work with the LV=Streetwise safety centre in Bournemouth.
Interactive safety centre LV=Streetwise teaches children how to avoid accidents by taking them through realistic mock scenarios including a house, high street, farm, rail station and electricity sub-station.
Coles Miller is sponsoring the award-winning centre for the second consecutive year by supporting a children's competition to redesign its interactive Home Safety Game which LV=Streetwise first developed back in partnership with RoSPA.
Coles Miller is teaming up with the digital production team at full service marketing agency Intergage to refresh the game.
RoSPA Family Safety Week (March 24-28) covers five important areas of accident prevention:

Under-5s – one of the age groups most at risk from accidents
Older children – encouraging them to learn to swim
Teenagers and young adults – helping learner and newly qualified drivers
Adults in the workplace – one-third of road accidents are work-related
Older people – helping them to avoid slips, trips and falls.
LV=Streetwise manager Alison Shelton said: "It's fantastic to once more have the backing of Coles Miller.
"Both the refresh and extension of the game will enhance an already popular learning tool enjoyed by families and schools alike.
"Encouraging everyone to spot the potential for danger and react accordingly is key to reducing the number of preventable accidents in the home and on the roads.
"This game gets that message across in a simple but truly impactful way and that was why it was chosen by RoSPA to play at its launch event and share nationally as a resource in support of Family Safety Week."
Coles Miller's personal injury solicitors usually see an increase in the number of accidents following the Easter bank holiday.
Motorcyclists are more likely to take their bikes out on the road for the first time. Homeowners embark on home improvement projects, resulting in a spate of DIY-related accidents and falls from ladders.
Coles Miller helps victims of accidents that were not their fault to gain compensation to cover the cost of treatment and ongoing care. The lawyers win 99 per cent of the cases they take on.
Around 25 per cent of the cases taken on by Coles Miller involve road accidents. The expert solicitors act for drivers, passengers, pedestrians and cyclists – usually on a no win no fee basis.
Coles Miller personal injury Partner Adrian Cormack said: "Cyclists can be particular vulnerable to injury.
"They will often sustain some form of leg or ankle break in accidents where cars are involved.
"In many of the accidents, a driver will be changing lanes or pulling out of a minor road and not see the cyclist," he added.
Another key area of risk for accidents is the workplace. They can be caused by defective machinery, insufficient safety precautions or the presence of dangerous chemicals.
The most serious road and work-related accidents involve head, brain and spinal injury claims. This highly complex area of work – which requires specialist legal expertise – can result in multi-million pound payouts for the victims.
Slips, trips and falls in public places are another area of Coles Miller's personal injury caseload.
Latest data published by RoSPA shows that more than 410,000 people were admitted to hospital in 2012/13 after falling. In 2,012, 4,674 people in the UK died following falls – 85 per cent of them were of retirement age.
Coles Miller is based in Dorset but handles personal accident claims from all over the UK. The firm has five offices in Bournemouth, Poole, Broadstone, Charminster and Wimborne.
To find out more about how to claim compensation for injury, contact Coles Miller Solicitors Partner Adrian Cormack, 01202 673011.
(1) RoSPA Family Safety Week, March 24-28 2014
-Ends-
Notes For Editors
Coles Miller is one of Dorset's leading law firms with offices in:

Poole - (01202) 673011
Charminster - (01202) 511512
Bournemouth - (01202) 293226
Broadstone - (01202) 694891
Wimborne - (01202) 935039
Coles Miller is one the largest law firms in the region with 13 Partners and around 115 staff. It traces its history back to the late 1920s.
As well as providing a full legal service for the private client, the firm also has one of the largest dedicated commercial departments in the Bournemouth and Poole area.