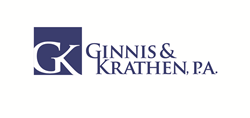 In many cases, the driver's liability insurance will be sufficient to pay for whatever medical bills an injury victim incurs.
Fort Lauderdale, Florida (PRWEB) April 22, 2014
Ginnis & Krathen, P.A., a highly-regarded personal injury law firm serving the South Florida area, has some reassuring words for drivers and passengers who live in the Sunshine State but have been injured in an auto accident caused by someone who does not live in Florida. The good news is that these victims can still seek relief in an in-state civil court.
"Millions of people come to South Florida every year for vacation or business," says Eric Ginnis, partner at Ginnis & Krathen. "Unfortunately, their lack of familiarity with the area and/or their general carelessness can result in a collision that hurts a South Florida resident."
Eric Ginnis says that no matter what the circumstances are, the most important thing for accident victims to do first is to seek medical attention. If their injuries are serious and/or acute, they should contact emergency responders by dialing 9-1-1. If they are in pain or discomfort but can still function, it is vital that they see a physician or other health care professional as soon as is practical.
If the offending driver is from out-of-state, Eric Ginnis says that the victim can still file a claim against the company that provides auto insurance coverage for the driver. Because most insurers are national (or international), their policies cover a driver's actions in whatever state he or she travels. "In many cases, the driver's liability insurance will be sufficient to pay for whatever medical bills an injury victim incurs," says Mr. Ginnis.
However, the possibility exists that a victim may suffer serious injury, which requires expensive medical care, being absent from work, and/or a permanent disability that forever changes a victim's quality of life. In these instances, a personal injury lawsuit may be necessary to collect all of the monetary damages that a victim deserves.
Thankfully, Florida protects people who have been injured by out-of-state drivers with what is commonly known as the Long-Arm Statute (as in the "long arm of the law"). This law states that whenever drivers cross over state lines into Florida, they automatically consent to appear in court in the event they are named as a defendant in an auto accident lawsuit. The Long-Arm Statute has the power to compel out-of-state drivers to come to Florida and participate in court proceedings.
If you feel that you need to file a personal injury lawsuit after an auto accident, you are strongly encouraged to engage the services of a qualified auto accident attorney. He or she has the expertise and knowledge to file this type of lawsuit, negotiate with defendants and their insurance companies, and advocate for your rights in court if necessary.
Ginnis & Krathen has compiled years of experience in litigating auto accident lawsuits. The firm has an excellent track record of securing monetary settlements and judgments for their clients whose lives have been adversely affected by an auto accident. If you have been injured in an auto accident caused by the negligence or recklessness of someone else, contact Ginnis & Krathen at 954-905-4600 for a free, in-person consultation, or visit the firm's website at http://www.ginniskrathenlaw.com to set up an appointment with an attorney.
About Ginnis & Krathen, P.A.
Ginnis & Krathen, P.A. is a personal injury law firm that assists clients in Fort Lauderdale, Miami, Broward County, Miami-Dade County, and throughout South Florida. Their highly qualified attorneys are skilled in all areas of negligence, including auto accidents, wrongful death, medical malpractice, slip-and-fall accidents, and product liability cases. Ginnis & Krathen prides itself on providing personal attention, straightforward answers to questions, and superior legal representation in your individual case. The firm is dedicated to serving its clients with honor, honesty, and integrity. The material presented here is for informational purposes only and does not constitute legal advice, nor does it establish an attorney-client relationship.