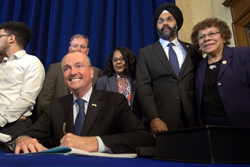 According to K Street Group Chief Operating Officer, Bob Aromando, " not only does NJ A2761 place our armed officers at a tactical disadvantage but now it possibly could affect the lives we protect everyday."
LEBANON, N.J. (PRWEB) October 16, 2019
Active shooter incidents seem to have become terrifyingly too common in the US, and anti-Semitic hate crime incidents are at an all-time high; in NJ alone, according to the Audit of Anti-Semitic Incidents: Year in Review 2018, published by the Anti-Defamation League (http://www.adl.org/audit2018), there was a reported 200 anti-Semitic incidents in 2018. Temples and Houses of Worship are considered to be "soft-targets" by Department of Homeland Security, as such it is the recommendation of K Street Group to consider "Armed" security protection from home-grown terrorist threats, vicious and deadly hate crimes, and white supremacy gangs. When these hate groups embark on their mission to cause massive fatalities, they bring with them more ammunition than one "Armed" security officer is permitted to legally possess under NJ A2761.
The K Street Group currently has contracts with over 10 large Jewish Temples in North Jersey to provide "Armed" security officers. Some of these locations have early childhood schools, with upward of 300 children enrolled. K Street Group Armed officers have a statutory duty under the New Jersey Security Officer Registration Act to protect these children from an active shooter situation. K Street Group feels their "Armed" officers have had their ability to survive an attack by an active shooter reduced by over 30% because of NJ A2761. To make it easier to understand this point; our Armed officers typically carry 3 magazines plus 1 in the firearm, that equals 40 rounds of ammunition. Prior to NJ A2761, K Street Group Armed officers carrying the same number of magazines would have 60 rounds of ammunition. The more rounds of ammunition an Armed officer has the better chance there is for survival and fewer fatalities. NJ A2761 not only places Armed security officers at a tactical disadvantage, but it also puts the lives of the children and staff at the temples at high risk.
According to the National Sheriffs Association report: EMBRACING TECHNOLOGY TO DECREASE LAW ENFORCEMENT RESPONSE TIME ( http://www.sheriffs.org/content/embracing-technology-decrease-law-enforcement-response-time) published on February 28, 2016, the average police response time in an emergency situation is about 18 minutes, This showed that the police are not necessarily the first responders in those situations when their is an Armed security officer onsite. They respond during or after the attack is reported. The "Armed" security officers are the people on the scene who are the first responders. K Street Group believes NJ A2761 significantly reduces the "Armed" security officer's ability to thwart the active shooter because he would run out of ammunition.
In 2017, the FBI released their Active Shooter Incident Report (http://www.fbi.gov/file-repository/active-shooter-incidents-us-2016-2017.pdf/view) which shows there were 30 different Rapid Mass Murder attacks in a wide variety of locations. These 30 attacks broke all previous records for numbers of Rapid Mass Murders in preceding years.
According to noted expert, Ron Borsch, a former law enforcement officer ( http://www.guard911.com/team/ron-borsch/), 32 people were killed and 25 wounded in the span of 7 minutes during the Virginia Tech active shooter incident. The effective murder rate was over 8 per minute — four times that of Columbine at 2.1. In other words, at Virginia Tech, the worst mass-murder by a solo active shooter to date, one shooter committed 32 murders in less than half the time it took the two Columbine shooters to kill 13. K Street Group's opinion that In these unfortunate situations an "Armed" security officer would have run out of ammunition quicker than the assailants.
NJ A2761 would give active shooters a significant "fire-power" advantage over "Armed" security officers since they can and do obtain large amounts of ammunition along with high capacity magazines illegally. According to the Sandy Hook Elementary School Shooting Report (https://cspsandyhookreport.ct.gov/) released by the Connecticut State Police in 2013, the shooter who killed 20 children and 6 adults at Sandy Hook Elementary School in Newtown, CT, in 2012, equipped his assault weapon with 30-round magazines, which enabled him to fire 154 rounds in less than five minutes. The gunman in Tucson, AZ, who killed 6 people and injured 13 others, including US Representative Gabrielle Gifford, in a supermarket parking lot in 2011, used a handgun equipped with a 33-round magazine. Similarly, the man who killed 49 people and then himself in the Pulse nightclub in Orlando, Florida, in 2016 used a rifle with a 30-round magazine and a pistol with a 17-round magazine.
K Street Group management believes NJ A2761 will have no impact on what capacity magazine an assailant will use in the commission of an active shooter situation. It will however, likely reduce the survivability of an "Armed" security officer by 30% because the officer will have less ammunition to engage the shooter.
A revision to NJ A2761 to exempt "Armed" security officers will likely save lives and reduce collateral damage. It would give Armed officers who are actually on the sites of "soft targets" such as Jewish Temples, the tools they need to effectively engage an active shooter should the incident occur. The worse scenario would be for an "Armed" security officer to run out of ammunition because he could lawfully only possess 10 round magazines—who would be liable in this case—the Governor who signed the law and or the sponsors of the law?
Armed Security Officers and Armored Couriers perform their job because it's their chosen profession, they get ready every day to provide protection to keep our country safe from people who want to cause harm. They put their lives on the line for people they don't know, people they have never met, and stand before an unknown threat in hopes of keeping them safe from harm.
Help us to convince the New Jersey legislators that NJ A2761 needs to be amended to exempt Armed Security Officers and Armored Couriers. Contact Governor Phil Murphy now.