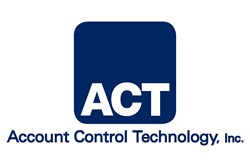 "I am very pleased with our expansion over the past year. We have put in place the right people, technologies, infrastructure, strategy and mindset to fuel our growth for years to come."
Canoga Park, CA (PRWEB) August 22, 2013
For the seventh consecutive year, Account Control Technology, Inc. (ACT), a national leader in delivering debt management and recovery solutions, has been recognized by Inc. magazine as one of America's 5000 fastest-growing private companies. This year, ACT ranks No. 3068 on the Inc. 5000 list for achieving 108% growth between the years of 2009 and 2012. ACT was first honored by Inc. magazine in 2007, and the company's continued inclusion within the Inc. 5000 demonstrates its ongoing success.
"I am very pleased with our expansion over the past year," said Nabil Kabbani, CEO of ACT. "We have put in place the right people, technologies, infrastructure, strategy and mindset to fuel our growth for years to come."
Over the past 12 months, ACT has executed several exciting initiatives which have contributed to its success. The company added a new, 30,000-square-foot call center in Dallas, Texas; expanded its capabilities with new technologies and infrastructure; built out its sales, marketing and compliance teams; expanded its executive team with a Vice President of Quality Assurance; diversified its service offerings; and hired hundreds of new employees. In December 2012, ACT received a Hire Power Award, also from Inc. magazine, for ranking among America's top job creators.
"We are honored to once again be recognized in the Inc. 5000," said Dale Van Dellen, ACT's Chairman of the Board. "We had another awesome year, and I am proud of our team members at every level for the work they have put in to expand our organization while maintaining our high level of service for clients and consumers."
The complete Inc. 5000 rankings can be found at http://www.inc.com/inc5000/list/2013 .
About ACT
Account Control Technology, Inc. is a national leader in providing consultative debt management and collection solutions for education, government, commercial and consumer entities. Established in 1990, ACT has been recognized as an Inc. 5000 fastest-growing private company for the past seven years running. The company serves clients nationwide from five office locations: Bakersfield, California; Canoga Park, California; Mason, Ohio; Dallas, Texas; and San Angelo, Texas. For more information, call 800-394-4228, email marketing@accountcontrol.com or visit http://www.accountcontrol.com.