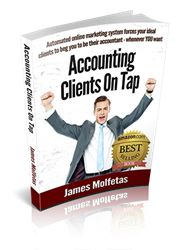 I managed to get 40 new clients the very first time that I employed this system in my consulting practice
Johannesburg, SA (PRWEB) May 25, 2015
Chartered accountant and ex-audit partner James Molfetas, CEO of Infinite Sales Funnels, has just released his new number 1 bestselling book called "Accounting Clients on Tap" detailing a revolutionary online system for financial service providers to add clients to their practices without having to rely on traditional outdated client acquisition methods such as cold calling, referrals or networking.
This proprietary system has taken 4 years to perfect and was borne out of necessity. James was forced to leave the profession in 2011 due to the recession. James laments, "I knew that I needed to get more clients, but I just did not know how. I vowed never to rest again until I had learned how attract clients. My hard work has been rewarded. I managed to get 40 new clients the very first time that I employed this system in my consulting practice."
At its core, the book helps accountants identify who their ideal clients are. It is then a simple process to find these prospects online and to get them to approach you by offering them exactly what they want.
James explains, "These highly targeted prospects are encouraged to enter your world through a system that gets them to pre-qualify themselves and culminates with them paying you a consultation fee. My clients love this approach because there is no hard selling, cold calling or time wasted on fruitless networking meetings."
James explains the book title metaphor "accountants can only handle a limited amount of new clients at a time due to the business being very time intensive. Many of my clients "open the tap" and once they have about 5 new clients, which could take just a few days, they "close the tap" while they integrate these new clients into their practice. Once they feel that they are ready for an influx of new clients, they re-open the tap again. This allows them to control the growth rate of their practices".
It is more than a job for James, it is his passion to teach his fellow professionals how to banish cash flow worries forever. He teaches his system to accountants by presenting monthly webinars all over the world. Anyone who would like to attend a webinar or any accounting association or institution anywhere in the world who would like to learn from James can find more details on his website http://www.infinitesalesfunnels.com
As part of James' commitment to expose his system to as many accountants in as many countries as possible, the book is available at no charge for finance and other professionals for a limited time. Anyone interested in downloading a complimentary copy of the book can do so by going to http://accountingclientsontap.com/free-digital-book/
Once the promotional period ends, Accounting Clients on Tap will be available from amazon.com or http://accountingclientsontap.com/ Media review copies are available upon request.