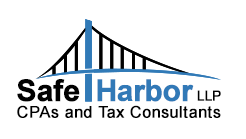 February is a very exciting month in the accounting prorfession, especially in San Francisco, CA.
San Francisco, CA (PRWEB) February 27, 2015
Safe Harbor LLP, San Francisco's top-rated accounting firm, has issued their February tax tips bulletin. The firm's monthly bulletin have become the standard in informative tax tips for San Francisco residents, especially high income residents and those who own businesses.
"San Francisco's red hot housing market means that many clients struggle with whether to rent or buy," explained Chun Wong, CPA, managing partner at safe Harbor LLP. "One of the most informative articles in this month's bulletin concerns questions of real estate."
To read the San Francisco tax tips bulletin, please visit http://www.safeharborcpa.com/san-francisco-accounting-firm-safe-harbor-llp-announces-february-tax-tips-bulletin/. The firm also has many other informative tax bulletins on the website, covering all sorts of issues relevant to high income individuals and those with small businesses in the San Francisco Bay Area.
February San Francisco Tax Tips Bulletin
In addition to the article on whether it is better to buy, or rent, a home in San Francisco, the February tax tips has San Francisco Accounting Firmthe following informative articles.

Income Annuities in Employer Retirement Plans – Annuities are all the rage in retirement planning, after the disruptions of the Great Recession
When Workers are Independent Contractors – Contractor or employee?
Tax Calendar: Upcoming Tax Deadlines for San Francisco Businesses and Residents
About Safe Harbor LLP – a Professional Tax Service in San Francisco
Safe Harbor LLP is a CPA firm that specializes in accounting and tax services for individuals and businesses throughout the San Francisco Bay Area and greater California. Safe Harbor CPAs helps both individuals and businesses with tax preparation, IRS audit defense, and audited financial statements. The firm prides itself on friendly yet professional service and utilizes state-of-the-art Internet technology to provide quality customer service.
Safe Harbor CPA
http://www.safeharborcpa.com
Tel. 415.742.4249