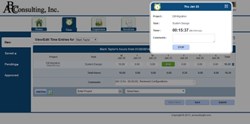 The AccountSight Stopwatch Timer documents time on multi-tasking activities down to the second.
San Jose, CA (PRWEB) January 24, 2014
AccountSight Software announces the Stopwatch Timer enhancement to their latest cloud-based online application version 2.11, a simple and easy to use time, expense and invoicing solution for customers worldwide. Users faced with juggling many tasks at the same time can now conveniently record time spent on each project down to the second with the new stopwatch timer feature in AccountSight's online timesheet.
"Helpful enhancements to our software demonstrate AccountSight's commitment to its customers' needs as we are focused on delivering enriched time tracking as well as e-invoicing capabilities," said Anita Bist, VP of Marketing and Sales. "We are happy to add the Stopwatch Timer feature to our current platform without increasing the price. The Stopwatch Timer will be of tremendous benefit to consultants, freelancers, architects, web designers, creative professionals and company employees."
AccountSight's Stopwatch Timer has a simple and user friendly design that will enable business to track time accurately while maintaining the details of each punch-in and punch-out time entry. This is particularly helpful to employees and contractors so that they can avoid errors in estimating time spent on various tasks and projects throughout the day.
AccountSight's innovative time tracking Stopwatch Timer functionality has the following benefits:

The server based time tracking is accurate up to the second even when the users are offline. The stopwatch time is synchronized both periodically and also when the timer is stopped. This capability provides businesses more control over the precise time when billing for professional or consulting services.
The AccountSight timer log provides accurate task time tracking with punch-in and punch-out details. This information can be used for reporting purposes.
AccountSight time saves multiple comments for the same job/project/task from each punch-in and punch-out. The comments from each punch-in punch-out timer activity are combined and saved with a timestamp. This information is highly useful and can be used for timesheet approval.
Accurate tracking for projects or programs for non-profits or for budgeted grants.
Sign up for a free 30 day trial to try out the new Stopwatch Timer feature. Register now at http://www.accountsight.com/
AccountSight Key Features:

Time tracking and expense tracking in seconds.
Efficient timesheet and expense approval workflow notifications.
Excel integration for time and expense bulk uploads.
Fast and easy manual and recurring online invoicing.
Configurable automatic reminders on timesheet, expense and invoices.
Powerful dashboards and reports for online project management and invoice status.
Drill-down directly from dashboards into time, expenses and Invoicing reports.
About AccountSight:
AccountSight is an easy to use online time tracking, expense recording and invoicing software ideal for small to mid-size businesses, consultants, independent professionals and freelancers. It is full of productivity-driven features that are conveniently available to users through a very helpful interface. The many customer benefits and hassle-free user experience make AccountSight unique. For more information, please visit http://www.accountsight.com.
System Requirements:
AccountSight works with any operating system. Supported browsers are Internet Explorer, Mozilla Firefox, Google Chrome and Safari.
Pricing:
AccountSight is a subscription based software with prices starting from $7.95 to $9.95/user. Volume discounts available for larger companies and government organizations. Please contact AccountSight directly for special pricing.