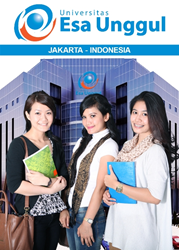 The success of accreditation assessment on every study program at Esa Unggul University lies on the quality of management in implementing Tridarma Perguruan Tinggi, namely Teaching and Learning, Research and Community Service
Jakarta, Indonesia (PRWEB) May 30, 2015
Accreditation is an official assessment conducted by a government institution, namely Badan Akreditasi Nasional, to monitor and to evaluate the quality of education in all study programs at university. In other words, every education institution is obligated to get involved in this evaluation, or so-called accreditation. This government institution (Badan Akreditasi nasional) always controls the quality of the learning process in all universities in order to create qualified graduates.The result of accreditation is marked with level A, B, C and D (unaccredited) and its term is 5 years.
7 standardized points on accreditation
1. Vision, mission, goal and objective, and achievement strategy.
2. Leadership, management system and quality assurance from Badan Akreditasi Nasional.
3. University students and graduates, focusing on questionnaires filled by graduates, GPA and students' recruitment.
4. Human Resources such as: ratio, qualification and development of lecturers.
5. Curriculum, learning process, and academic atmosphere.
6. Funding, facilities, and information system.
7. Research papers (journals and any other scientific writings), society devotion, and cooperation.
Corresponding with accreditation, there are five study programs at Esa Unggul which have "A" level. They are: 1) Management, 2) Product Design, 3) Medical Record Management 4) Information Technology and 5) Communication. In addition, management, product design and medical record management are able to maintain "A" accreditation for the second terms, whereas information technology and communication have just got it. The remaining study programs, namely, Accounting, Industrial Engineering, City and Regional Planning, Visual Communication Design, Information System, Public Health, Nutrition, Health Information Management, Law and Psychology, still get "B" accreditation.
Esa Unggul University has a strong commitment to achieve the world class standard by developing cooperation with some international institutions for the improvement of teaching quality and curriculum as well. Moreover, EUU not only generates intelligent and critical thinkers, but also produces graduates who are capable, innovative in creating job opportunities, and well-prepared to face global competition.
Contact us:
Esa Unggul University
Jalan Arjuna Utara No. 09, Tol Tomang
Kebon Jeruk, West Jakarta, Indonesia 11510
Phone: +621 5674223 (hunting), +621 5674152. Fax: +621 5674248
E-mail: humas [at] esaunggul[dot]ac[dot]id or pmb [at] esaunggul[dot]ac[dot]id
Website: http://www.esaunggul.ac.id
Twitter : UnivEsaUnggul
Facebook: universitas.esaunggul.fanpages