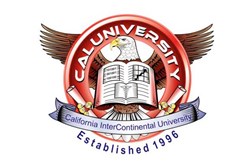 Los Angeles, Calif. (PRWEB) November 13, 2013
As part of National Distance Learning Week (NDLW), which is held November 11-15, CalUniversity and many other accredited online colleges are highlighting the numerous ways in which online college courses have improved, and how they compare to the offerings of traditional universities.
A Gallup poll released in October found that nationally accredited online colleges rank higher than traditional schools in both options and the value of tuition. These advantages are part of online colleges' focus during NDLW. According to the United States Distance Learning Association, which operates NDLW, over 3.5 million are currently taking their classes online.
As online college courses, such as those offered by CalUniversity, can be viewed at any time, students with careers are able to plan their education when convenient. Accredited online colleges were also found to be a better value than other schools, which correlates with the flexible payment plan options CalUniversity offers for its online college courses. CalUniversity designs its payment options in order to help students fund their education in the most convenient method possible, ideally resulting in being debt-free by the time of their graduation.
CalUniversity is a nationally accredited online college offering Associate, Bachelor, Master, and Doctorate Degrees programs in Business, Healthcare and Information Technology. The school has also been recognized as a Military-Friendly Educational Institution by the magazine G.I. Jobs, which gives this award only to schools providing the best possible experience for military students. The school offers numerous awards, scholarships and tuition discounts to military personnel as part of the value and options cited in the Gallup poll.
As most students attending CalUniversity are working professionals, the value and flexibility of accredited online colleges is extremely important. Online college courses do not require students to take time off from their careers or personal lives in order to advance their education. Adding to the options and value for students, CalUniversity's online college courses last for 6 weeks, are open for registration at any time and at every degree level.
Accredited online colleges, as cited by the Gallup poll, are better values for students because of their higher return on investment. As student loan debt can create a financial burden after graduation, CalUniversity offers scholarships and tuition discounts to those that qualify.
The most popular plan, according to the online college's website, is "Plan 2" in which students are able to make monthly payments on classes as they take them. This particular flexible payment option assists students in funding their education by allowing them to spread out their tuition payments during the length of each course instead of paying their tuition in full all at once at the beginning of each course.
National Distance Learning Week is celebrated in order to highlight the numerous improvements made to online education, to raise awareness of the growing popularity of distance learning, and to show the current advantages of taking online college courses. As shown by the Gallup poll, CalUniversity, a nationally accredited online college, offers better options and a better value than traditional schools for students taking online college courses.