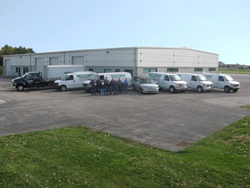 We are proud to welcome Sullivan's Equipment as our newest distributor and look forward to helping their business grow with Accudraft products.
Randolph, New Jersey (PRWEB) November 03, 2016
SAIMA of North America, proud manufacturer of Accudraft refinishing products, is happy to announce the expansion of our growing distribution network. We have always believed in partnering with successful businesses but more importantly with upstanding distributors that are capable of supporting our products in the field to ensure that our customers receive the best possible experience from beginning to end. As with our product line, we are constantly seeking to grow our distribution network to include partners that allow our customers to become more efficient and more profitable through the sale and service of quality products. With that said, we are happy to announce the addition of:
Sullivan's Equipment to our distribution network. Craig Sullivan and his team offer a full line of collision repair equipment including welders, frame equipment, measuring systems and compressed air products, in addition to Accudraft refinishing products. Sullivan's equipment has been built on providing a fair value on equipment combined with great service to their extensive customer base.
The vast experience of the Sullivan's Equipment team allows them to present turnkey solutions for their customers. In addition to supplying a full range of equipment, they are also situated to handle design build applications through the use of cutting edge software and decades of experience in the industry. By managing the sale process from start to finish, Sullivan's Equipment is able to help their customers realize their dreams and profitability while keeping them involved in all aspects of the project.
SAIMA of North America is proud to have the Sullivan's team as part of the Accudraft family. For more information on Sullivan's Equipment or Accudraft products, please contact:
SAIMA of North America
961 Route 10 East Suite 2K
Randolph, NJ 07869
1-800-524-0340 x 112
info(at)accudraftpaintbooths.com
http://www.accudraftpaintbooths.com/