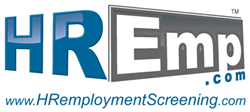 HRemploymentScreening.com offers a wide variety of accurate employment background services.
Boston, MA (PRWEB) June 10, 2014
InstantCriminalChecks.com is proud to announce its partnership with employment screening services company HRemploymentScreening.com. Largely known for providing clients with immediate criminal background check data, InstantCriminalChecks.com is excited to partner with a company that offers advanced employment screening services to its clients. Together, the two websites will allow business owners and employment managers to have the best information available before making hiring decisions.
HRemploymentScreening.com offers a wide variety of accurate employment background services, which allows managers, human resources professionals and business owners to obtain pre-employment background check information about potential job candidates. Most companies today want to make sure they invest in the best, most qualified and most committed candidates, while also keeping their current employees safe and happy in the workplace. HRemploymentScreening.com helps business professionals to do just that, all with affordable and accurate employment background services that provide easy to read results.
Accurate employment background services that are offered by HRemploymentScreening.com include:

Employment Verification Services which allow hiring managers to verify the different employers that a job candidate worked for, the start and end dates of those jobs, and their eligibility to work again.
Educational Verification Services that verify educational information provided by the candidate, such as institutions attended, start and end dates and graduation information.
Professional Reference Verification which verifies references provided to the employer by the job candidate.
Credit Reports which allow an employer to verify credit report information.
Driving Records which allow a human resources department to gain access to public driving records. Additional information may be required to perform these types of searches.
Criminal Background Checks which allow an employer or hiring manager to verify that the candidate background and determine if he/she is safe and eligible to be hired by the company.
InstantCriminalChecks.com prides itself on being a leading provider of local, state and national criminal background checks and is excited about the new employment screening partnership with HRemploymentScreening.com. InstantCriminalChecks.com is still the best choice for small and local businesses who simply want to invest in criminal background screening services.
About Instant Criminal Checks
InstantCriminalChecks.com offers background checks for employment screening that range anywhere from $15 to $60, giving you the affordable options that you need. Whether you need state criminal background checks or a national criminal background check, InstantCriminalChecks.com is equipped to provide you the information you need in only seconds.