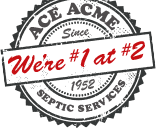 Seattle, WA (PRWEB) February 22, 2014
During these last few cold months of the winter season,we come to the time that most gardeners and landscapers begin flipping through seed catalogs to decide what to plant for the upcoming spring. Ace Acme has, in response to this wave of warm weather and spring-centric-thoughts, released an exciting series on innovative ways to landscape over the most dreary section of a lawn—over the septic field. To view the series, visit Ace Acme's blog.
The first post of the blog series seeks to inspire homeowners to view this portion of the lawn as an opportunity to be creative. The article cautions homeowners that the distance between the top of the septic field and the lawn isn't much, between 4-8 inches. Because of this, the article recommends never using large tilling machinery or heavy hand tools, as these may risk damaging the septic system.
"Most homeowners will have noticed that the areas of their lawn where the grass is most green is above their septic system. The extra 'fertilizer' that drains off keeps the grass thriving," Ace Acme explains. This is what they view as a golden opportunity to plant shallow rooted plants, such as wildflowers, and turn this boring space into a beautiful backyard bouquet.
The second post of the series focuses on warning homeowners what not to plant over a septic system. According to the septic professionals, any plants with deep tap roots, such as trees are going to pose a hazard to the system. The article also explains why vegetables should never be planted near or on top of a septic system.
The final post of the series addresses important issues such as why one should wear gloves while digging around a septic system, where sprinkler systems must be placed, and how to know if there is risk for water runoff. Such cautions help to ensure homeowners aren't going to be at risk for the high cost consequences of a little mistake.
About Ace Acme:
Serving Northwest homeowners since 1952, Ace Acme provides high quality septic tank pumping services. Their team of professionals know what it takes to protect the environment, excel within the industry, and work hard for every customer. Visit http://www.aceacme.com for helpful information and exceptional service.