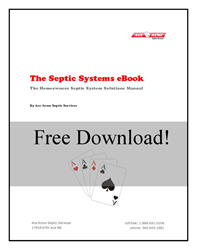 Seattle, WA (PRWEB) January 30, 2014
Ace Acme, a local Seattle septic tank pumping company, is committed to arming septic system users with the information necessary to properly monitor and maintain their system. To this end, they recently published a eBook on the topic of septic systems. To download the eBook, click here.
Fully understanding the proper techniques behind prudent use, easy repair, and preventative maintenance will rescue the septic system user from numerous headaches and inconvenient messes in the future.
The eBook opens with a basic description of a septic system and follows up with an interesting chapter on the history and evolution of septic tanks. The maintenance chapter begins with a discussion on the proper time to pump your tank and concludes with a section on preventative septic tank maintenance.
Next up is a chapter dedicated to Do-It-Yourself septic tank repairs. While septic tank professionals are generally relied upon for repair work, there are several DIY options that could save money. Tasks such as sending a plumber's snake down the drainpipe or even fixing the tank's lid are solutions that non-professional users are able to complete if necessary.
The winter season can threaten the functionality of a septic system. Knowing how to avoid cold temperature problems is a must, and the eBook provides a list of helpful tips for winterizing a septic system. Simple tactics such as insulating your septic system and occasionally running warm water throughout the day will keep the threat of freezing conditions at bay.
The issue of "septic system vs. public sewer" is a hot topic of discussion on the environmental front. The eBook analyzes the pros and cons of each option and concludes by explaining the local environmental benefits of a septic tank.
Finally, the eBook concludes with an evaluation of the cost efficacy of a septic tank. Surprisingly, the chapter reaches the conclusion that, while the upfront costs can be quite high, a septic system will, over time, save the average user thousands of dollars.
About Ace Acme:
Serving Northwest homeowners since 1952, Ace Acme provides high quality septic tank pumping services. Their team of professionals know what it takes to protect the environment, excel within the industry, and work hard for every customer. Visit http://www.aceacme.com for helpful information and exceptional service.
17924 67th Ave NE
Arlington, WA 98223
(888) 676-6023