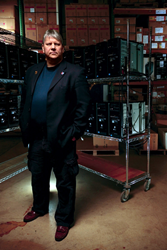 When you look at price/performance alone, there is no contest. This district is typical of schools that have been able to get the most from their technology budget by opting for desktops.
Chicago (PRWEB) February 18, 2016
Ace Computers, one of the leading custom computer builders and custom HPC specialists in the U.S., is reporting brisk sales of cost-effective desktop computers for K12 schools. This follows a trend toward the return of stationary technology to classrooms.
K12 schools have been embracing mobile devices and moving away from desktops in recent years, but the trend started shifting back toward desktops in 2015 for many reasons, the most important being financial.
An example is a large unified school district that continues to make a major commitment to desktops. Although they tried transitioning to mobile devices, the District CTO was able to show teachers and administrators that mobile devices end up costing their district much more than desktops.
Desktops have a lower upfront cost than mobile devices and are also easier to repair and upgrade (mobile devices usually can't be upgraded or repaired at all).
Like most school districts, they are trying to maintain or improve the services they provide in the face of ever decreasing budgets. "I always knew that desktops were the best option," the CTO said. "The trend toward tablets and laptops never really made sense to me aside from the issue of mobility, but there is a dark side to that."
He explained, "Teachers and students like to take them home, but therein lies the problem. The very fact that they are mobile means that people take them out of the building. In some cases, the devices have just vanished. We found that people use them for personal things and even lend them to family members. They take them home and put their personal documents and even software on them. I've seen everything from Christmas lists to personal graphics."
Over the years, this school district has ordered more than 3,000 desktops from Ace Computers. "Now, we have mostly desktops in our schools," the CTO said. "It's not that people are resigned to using desktops here, they actually prefer using desktops."
Ace Computers CEO John Samborski said, "When you look at price/performance alone, there is no contest. This district is typical of schools that have been able to get the most from their technology budget by opting for desktops. They remain a very valued client."
"The bottom line is that the device, whether it's mobile or a desktop, needs to be at school every day," the CTO said. "With a mobile device, that's always a question; with desktops, we know that when we turn the lights on in the morning, it's going to be exactly where it was when we turned the lights off the night before. It's not that people are resigned to using desktops here, they actually prefer using desktops."
Ace Computers currently holds the following K12 school-related contracts:

PEPPM (Pennsylvania)
WSIPC (Washington, Idaho, Alaska, Oregon, and Montana)
State of Wisconsin
State of Georgia
CMAS (California)
Leading custom computer builder and HPC specialist, Ace Computers also holds SEWP V and GSA contracts. They are a Woman-Owned Small Business custom technology systems manufacturer and reseller for the public sector as well as the commercial sector. Channel partners include Intel, Supermicro, NVIDIA, Mellanox and Samsung among others. An industry leader since 1983, the company is a 2015 HPCwire Readers' Choice Award finalist. In addition to some of the finest academic institutions in the U.S., long-term clients include the U.S. Department of Energy and the U.S. Department of Defense. In addition to our Greater Chicago headquarters, Ace Computers has locations in New Jersey, Pennsylvania, Virginia, and Arizona. To contact Ace Computers, call 1-877-223-2667 or 1-847-952-6900 or visit http://www.acecomputers.com/TopProducts.asp
###