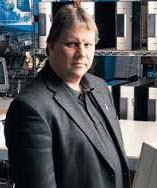 We are the go to authority on forensic workstations. I hope IACP 2016 visitors will stop by our booth to take advantage of our expertise.
CHICAGO (PRWEB) October 11, 2016
Ace Computers, one of the most experienced forensic workstation providers in the U.S., will be exhibiting at the upcoming International Association of Chiefs of Police Conference and Exposition—IACP 2016. This year's event will be held Oct. 15-18 in San Diego.
Ace Computers/Ace Technology Partners will be showcasing leading-edge forensic workstations from Booth 3532. New this year is a workstation featuring a 12-bay chassis.
All of the company's forensic workstations are capable of performing the full array of critical digital forensic operations, including:

Detection and identification of deleted files
Rapid evidence retrieval and authentication (including images and files) from hard drives
Identification of file access/modification dates and times; and creation of file system activity timelines
Write-blocking file integrity protection
Linking notes, images, and other evidence directly to a case file
Support for developer tools and universal hardware interfaces
Support for hardware-based, remote, and network-drive duplication
Support for duplication and analysis of an array of forensics-related file types.
Ace Technology Partners works with leading hardware component and software partners to ensure that the chain of evidence is preserved, protected, and accessible only to approved personnel. Workstation specs comply with and in most cases exceed the specifications of the software. Clients include the IRS, the SEC, the Pentagon, The New York State Troopers, U.S. State Dept., FBI, U.S. Army, Customs, and HIDT (High Intensity Drug Trafficking).
Acknowledged forensic workstation expert and company CEO John Samborski said, "This past year our forensic workstation capabilities have been featured in several leading publications. To me, that is validation that we are the go to authority in this area. I hope IACP 2016 visitors will stop by our booth to take advantage of our expertise."
The IACP Annual Conference and Exposition is the largest and most important law enforcement event of the year — attracting more than 14,000 public safety professionals. This is the event's 123rd year.
Leading custom computer builder and HPC cluster specialist, Ace Computers currently holds the following contracts: SEWP V, GSA, WSIPC, PEPPM, State of Wis., State of Ga. The company is a Woman-Owned Small Business custom technology systems manufacturer and reseller for the public sector as well as the commercial sector. Channel partners include Intel, Supermicro, NVIDIA, Mellanox and Samsung among others. An industry leader since 1983, the company is a 2015 HPCwire Readers' Choice Award finalist. In addition to some of the finest academic institutions in the U.S., long-term clients include the U.S. Department of Energy and the U.S. Department of Defense. In addition to our Greater Chicago headquarters, Ace Computers has locations in New Jersey, Pennsylvania, Virginia, and Arizona. To contact Ace Computers, call 1-877-223-2667 or 1-847-952-6900 or visit http://www.acecomputers.com/TopProducts.asp