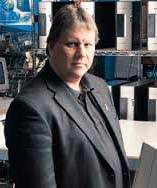 For any demanding application such as product simulation and digital forensics the difference in performance with a workstation is remarkable.
CHICAGO (PRWEB) April 12, 2017
Ace Computers is now widely acknowledged as the largest simulation, forensic, and deep learning workstation builder in the U.S. This is in addition to the company's reputation as a premier supercomputer and desktop provider.
Ace Computers CEO John Samborski said, "Many public sector and enterprise users are migrating from desktops/PCs to workstations now. For any demanding application such as product simulation and digital forensics the difference in performance is remarkable."
Samborski added that Ace Computers continues to recommend and provide desktops for some applications such as K-12 schools and small to mid-sized enterprises.
Ace Computers' clients generally opt for workstations over PCs because of high performance and increased durability—two areas that are especially important for sensitive/intensive applications where technology tends to be pushed hard 24x7x365 such as product simulation, digital forensics, and deep learning projects,
"A workstation opens up new capabilities that can help increase productivity, improve reliability, and limit downtime," Samborski said. "The options for workstations are constantly evolving. Part of the reason we have been so successful is that we stay on top of and evaluate these options even before they enter the marketplace. We are always on the leading edge of proven technology, but never the bleeding edge. So our clients—whether public or public sector always get an expertly designed workstation that performs to their exacting specifications and is capable of expanding along with the organization."
While workstations cost more than desktops, the cost is recouped through faster productivity and streamlined operations. Speed gains are often significant; greater than 500%. The motherboard, internal drive, RAM, etc. are usually more robust than desktop components and are optimized for peak performance. Even an entry-level workstation can be configured with about twice the memory of a desktop. A workstation can also be configured with a larger number of more powerful processors than a PC.
Because Ace Computers designs workstations from the ground up it is easy to add hard drives and graphics cards and increase RAM. It is also possible to later create multiple workstations with the same configuration as the organization grows.
Leading custom computer builder and HPC cluster specialist, Ace Computers currently holds the following contracts: SEWP V, CCS-2, GSA, WSIPC, PEPPM, State of Wis., State of Ga. The company is a Woman-Owned Small Business custom technology systems manufacturer and reseller for the public sector as well as the commercial sector. Channel partners include Intel, Supermicro, NVIDIA, Mellanox and Samsung among others. Ace Computers is an authorized Microsoft Surface Partner. An industry leader since 1983, the company is a 2016 HPCwire Readers' Choice Award finalist. In addition to some of the finest academic institutions in the U.S., long-term clients include the U.S. Department of Energy and the U.S. Department of Defense. In addition to our Greater Chicago headquarters, Ace Computers has locations in New Jersey, Pennsylvania, Virginia, and Nevada. To contact Ace Computers, call 1-877-223-2667 or 1-847-952-6900 or visit http://www.acecomputers.com/TopProducts.asp